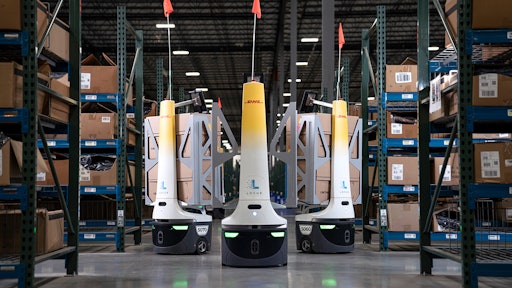 DHL Supply Chain
Carhartt, a fourth-generation family-owned company, has a rich heritage of developing rugged products for workers on and off the job for more than 130 years. From its start with overalls to its current variety of work apparel and outdoor gear, Carhartt has continued its growth over the past few decades, reaching new audiences and increasing in popularity through social media. That growth accelerated during the pandemic when essential workers increasingly needed durable workwear that could provide support and comfort for the crucial jobs they do. The demand was also driven by consumers who found themselves with more time to spend outside – and needed new gear to support their outdoor adventures.
The problem
Growing consumer demand meant Carhartt needed to increase their speed to market to keep up, while continuing to position the company to take advantage of future growth opportunities. Carhartt's two distribution centers could no longer handle the surge in demand.
Carhartt engaged DHL Supply Chain as a strategic partner, chosen based on the 3PL's deep industry expertise, global scale, and commitment to innovation and digitalization. Together, they opened a new distribution center in 2021 – but finding labor to fill open positions at the height of the pandemic was a challenge. Peak season was quickly approaching, and Carhartt needed the ability to reliably process its large influx of orders.
The solution
Thanks to its commitment to continuous innovation and ongoing evaluation of new technologies, DHL Supply Chain was able to quickly recommend and implement LocusBots from Locus Robotics into the Carhartt distribution center.
DHL Supply Chain initially deployed approximately 50 LocusBots to support up to 15 associate pickers in the 550,000 square-foot Carhartt facility. As peak season demand started, an additional 32 robots were seamlessly deployed without any negative impact to operations. Not only did this provide much needed support for the existing warehouse workers, it also helped close the gap created by open positions needed to meet peak demand that Carhartt was unable to fill. At the end of peak season, they reduced the number of active LocusBots at the facility back down to its original 50.
The results
DHL Supply Chain's LocusBots implementation helped Carhartt successfully meet demand in one of the biggest years in the company's history:
In general, sites with LocusBots saw a 50-70% increase in productivity, based on the number of units picked per hour.
The implementation of LocusBots helped mitigate labor shortages and onboard associates faster. Getting the Bots up and running efficiently is about 80% faster than recruiting, hiring, and training new pickers with a manual process. During peak periods, the Bots helped close the gap of open positions needed to meet demand. The training is quick and intuitive, allowing associates to be trained in minutes and hours rather than days and weeks.
LocusBots enhanced the employee experience, allowing associates to work at a more measured pace throughout peak season. The robots also foster a more efficient, comfortable work environment for associates. With assisted picking robots rolling up and down the aisles, associates spend less time walking long distances and pushing heavy carts and instead focus on value-added work. The LocusBots can "speak" dozens of different languages, adding to a more inclusive workplace for all associates.
The partnership has been so successful that Carhartt is planning to open three more warehouses with DHL Supply Chain in 2022 and 2023.