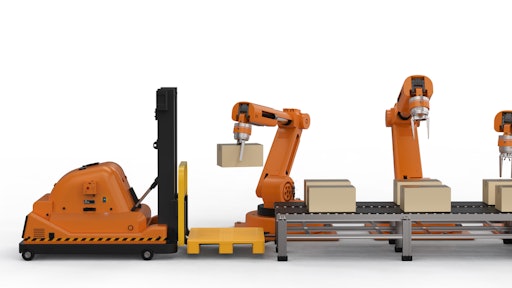 Getty Images
It is no surprise that e-commerce has been booming during recent years — not only playing an essential role in the global retail industry, but also in the development of the mobile robotics market. As it turns out, more and more warehouses and distribution centers are increasingly adopting automation solutions to their operations.
Thanks to this tremendous growth, the global warehouse automation market is expected to skyrocket too in the coming years. In fact, with a CAGR of 10.41%, market forecasts show an exponential growth of $15 billion during the forecast period — doubling the market value from $15 back in 2019 to an estimated $30 in 2026.
Material handling equipment
Not only is the e-commerce growth affecting the warehouse automation market, but it has also contributed to a steep increase in the material handling equipment market. With a value of $140 billion back in 2018 and nearly $213 in 2019, it is now estimated that the market will reach a value of $320.2 by 2027 — with a 5.4% CAGR during the next five years.
With mobile robot adoption is increasing across industries, markets are experiencing positive change. More specifically, it is estimated that the mobile robotics market in material handling equipment and logistic will be valued at $75 billion value by 2027 — more so, the market value is expected to have even doubled by 2038, reaching a total value of $150 billion.
With automation on the rise, the automated material handling equipment market — currently valued at $43.54 billion — is expected to increase at a 12% CAGR during the forecast period, expecting to reach a market value of $76.69 billion by 2026. Compared to the non-automated material handling equipment market, this increase is very significant.
Hybrid order fulfillment
With order fulfillment being one of the main ways to customer retention, it has become a fundamental yet challenging part of e-commerce. Not only are shipping speed, easy delivery processes and ample product information listed as the Top 3 contributing factors to attaining happy customers, it also turns out that inventory or order fulfillment issues are mainly caused by human error.
Businesses are starting to shift toward new approaches to order fulfillment — statistics show that nearly 50% of corporations are planning to implement a hybrid approach to order fulfillment, combining both in- and outsourcing methods. Further, of the 40% of businesses who are insourcing their order fulfillment at the moment, 6% will opt for an outsourcing solution and 18% will most likely outsource their entire order fulfillment.
However, order fulfillment comes with many challenges. Two of the most helpful tools for improving frontend operations are live updates on stock availability and having an accurate, comprehensive overview of the warehouse's inventory, which can be easily achieved through inventory management automation. Yet, it looks like many warehouses are still handling their operations manually, with only 35% of warehouses stating that they tracked their orders using automated solutions back in 2018, presenting great opportunities for potential market growth.
Warehouse automation
Robotic warehouse solutions have already proven their beneficiary, with more than 70% of warehouses and order fulfilment operations stating that ever since deploying autonomous mobile robots (AMRs) in their warehouses and fulfillment centers, they have noticed double-digit growth, especially when it comes to the organization's overall efficiency and productivity.
Evidently — and thanks to the positive outlook on global e-commerce — many warehouses and distribution centers continue to invest in robotic solutions and AMRs. In fact, where there were only 4,000 robotic warehouses in 2018, it is now estimated that there will be over 50,000 robotic warehouses by the year 2025, and of these, approximately 23,000 are expected to be in the United States alone, an increase of 20,500 units compared to 2018.
It even looks like commercial service robots are gaining more and more popularity, as nine out of 10 organizations will — one way or another — implement commercial service robots within their operations. Moreover, it is predicted that by the year 2025, more than 4 million commercial robots will be installed in over 50,000 warehouses around the world.
Not only is this reflected in previous statistics, but robotic shipment data also indicates that the demand for robots is seeing steady growth — there were 40,000 robotic shipments for warehouses and logistics back in 2016, whereas it is now estimated that by the end of 2021, this number will have increased to 620,000.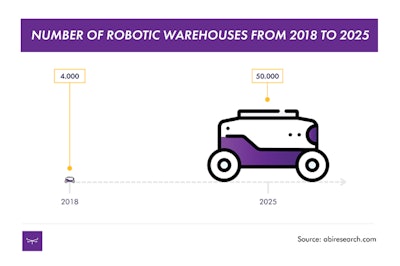 Click here to hear more about robotics in warehousing:
Final thoughts
It is evident that the global warehouse automation market will experience tremendous growth during the next years, which is highly influenced by e-commerce, the emergence of automation and AMRs, the increased importance of order fulfillment solutions in logistics and the globalization of the supply chain industry.
Current e-commerce trends are highly influencing the warehousing, manufacturing and logistics industry, indicating that it is becoming increasingly important for these industries — and others — to focus their efforts and attention on optimizing and developing automated solutions for the supply chain ecosystem.