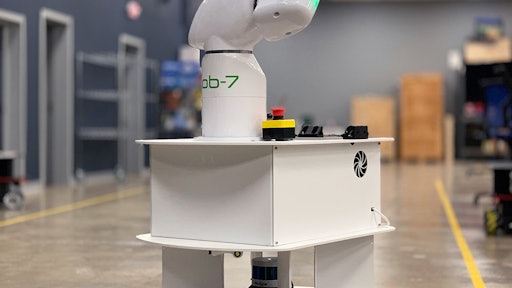 Waypoint Robotics
Waypoint Robotics and Productive Robotics integrate their own respective products to create a mobile manipulator for small to mid-size warehouses. Productive Robotics mounts its most flexible 7 axis collaborative robot arm onto Waypoint's omnidirectional autonomous mobile robot for easy deployment, mean to reduce repetitive tasks for workers.
Per Waypoint:
Waypoint Robotics'

Vector AMR and Product Robotics' OB7 have been elegantly integrated so set up and operation is fast, simple, and intuitive with both machines seamlessly working together as they perform tasks. The mobile manipulator has a flexible design and interconnected safety systems that allows for either robot to be the primary controller of a particular operation.
The Vector's omnidirectional mobility enables fast, precise docking in any direction or orientation so the OB7 can perform accurate and precise grasping or picking tasks, taking full advantage of the cobots' 7 degrees of freedom (7 DOF) and superior dexterity. Power management is also a breeze because the Waypoint EnZone provides on demand energy and opportunity charging for longer run times.