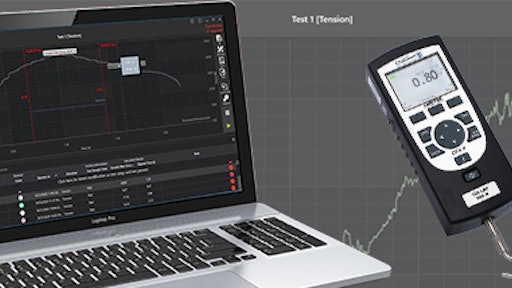 ForceTest
Chatillon introduces the new generation of its easy-to-use ForceTest 2.0 force testing software. When combining ForceTest 2.0 with a digital force gauge from the Chatillon DF II Series, the user will achieve a highly flexible force testing system while expanding functionalities from the force gauge, and also benefit from live test graphs and data analysis functionality.
ForceTest 2.0 is the latest, enhanced edition of the popular Chatillon ForceTest software that features a colorful and intuitive user interface ensuring that tension, compression, torque, peel and friction tests are simple to set up, and that test results are accurate and easy to read. Step by step wizard driven menus guide users through creating test programs while indicating the progress achieved. Basic force measurement such as tensile and compression test formats – including pull to break, pull to limit, compress to rupture and compress to limit – are easily performed by clicking just a few buttons. The graph can be viewed in real time on the screen while the test is running. Upper and lower limits may be set as control limits and captured in the test reports.
To reduce setup time, the ForceTest 2.0 software offers the most commonly used test types within force testing to be selected. Once a template is created, it also empowers its user to auto load the last test performed, and to open previously saved tests for use as a template for new tests.
The multitude of test result formats allow you to analyze the results for your needs. Results can be exported as PDF, Word, RTF, Image, CSV. Text, XLS, XLSX, HTML, and MHT formats. Both graphs and test results can also be exported directly in the same choice of formats. Custom test report templates are available, and the reports can easily be dropped into local or networked directories.
The ForceTest 2.0 software is Windows based and operates using Windows 10 operating system. Custom chart colors can easily be set for viewing. Units of measure, fonts, titles, and force measurement resolution can also be customized.