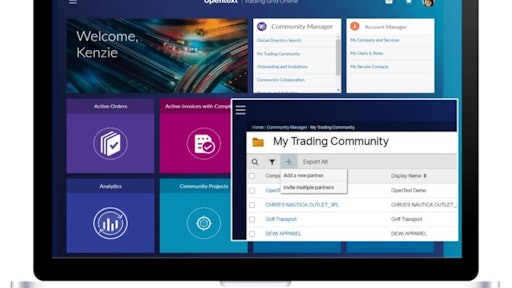 OpenText

OpenText today announced the launch of the new OpenText Trading Grid. The launch combines multi-enterprise integration capabilities with a modern, microservices architecture as well as industry-leading data visualization from OpenText ALLOY.
"COVID-19 changes everything, and industries are experiencing massive disruptions in their approach to materials, manufacturing and supply chain strategies," said Mark J. Barrenechea, CEO and CTO of OpenText. "Our new OpenText Business Network 20.2 radically transforms how companies can interact with their supply chain, bringing diverse sources of information, transactions and applications into a single platform. We are setting a new standard for intelligent supply chains that will help companies navigate this new normal."
Improved integration of business-critical information and services provides companies with greater insight into their operations so they can react quickly in the face of unforeseen disruptions or emergent opportunities.
Today, companies face a new reality of unstable global markets and shifting supplier relationships. In the face of unforeseen supply chain and operational disruption, they need better visibility into multi-enterprise operations, insights into transactions, integrated third-party data sources, and self-service capabilities.
Trading Grid is now a platform for B2B and A2A integration delivered as a managed service. A single connection to Trading Grid provides a powerful network effect that can reduce time to market, improve operating efficiency, enhance custoer experiences, and help comply with regulatory mandates.
"We are seeing a trend where best-of-breed data capabilities are being brought together onto unified platforms to help simplify the complexities of modern data environments," said Stewart Bond, director of data integration software research at independent analyst firm IDC. "A single platform that can normalize data across any source—whether on-premises applications, cloud applications, trading partner systems, and IoT connected devices—is critical for business process visibility and optimization. Technology is only part of the solution in these complex environments, and many leading organizations are also opting for a managed services approach to implementing unified platforms, freeing valuable technical resources to focus on other priority initiatives."
OpenText

Delivers a S
ingle unified platform
Trading Grid combines network services, integration services, managed services, and SaaS apps into a single cloud platform. The addition of OpenText Lens to Trading Grid allows users to monitor and manage data flows to improve performance and mitigate risk.
Studies from market intelligence leader IDC show that one in five organizations now have more than 10 integration tools in use. A single unified platform helps enterprises to break data silos between applications and trading partners and integrate data from many disparate sources more quickly. The resulting integrated and normalized data enhances business process efficiency and visibility—driving agility and responsiveness to unforeseen events.
Power of the network with Global Partner Directory
Trading Grid connects customers to a powerful global network of over 1.2 million trading partners spanning multiple industries and business types. Instead of setting up and maintaining separate connections, a single connection to Trading Grid provides instant access to the world's largest commerce platform.
Global Partner Directory provides self-service search, filter and instant connection to enterprises connected to Trading Grid. With data enrichment and survey capabilities, organizations can mitigate risk, build trust, and support corporate values such as ethical sourcing and sustainable supply chains.
Enabling the API economy
The API economy delivers rapid integration with real-time data flows. APIs coexist with many other forms of integration, and Trading Grid fully supports synchronous and asynchronous data flows. The latest Trading Grid enables the API economy with a vast library of pre-built API connectors and solution accelerators.
The addition of Trading Grid Solution Directory and Solution Designer significantly accelerate integrations and time to value with most common business apps, from ERP to analytics, social media to payments, and many others. Trading Grid also features a library of APIs that customer can consume in their own apps.
Powerful Technology-enabled Managed Services Ease Change Management
Technology-enabled managed services provide proven, efficient and repeatable best practices for day-to-day integration management. Businesses can leverage OpenText integration specialists for complex projects to optimize delivery, and they can extend integration capacity on-demand to complete integrations more quickly.
Trading Grid also enhances user control and productivity with new features, including a self-service mapping portal, self-service onboarding, and a new Community Projects portal for managing the full support request lifecycle. With most integration costs derived from change management, not initial set up, managed services are a solution for companies focused on growing their business, rather than managing integration complexity.