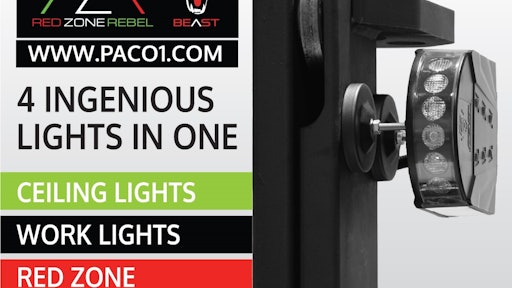 Panacea Aftermarket
Panacea Aftermarket introduced the most advanced forklift and pedestrian safety warning light on the market. Panacea's new Red Zone Rebel incorporates the most recent advancements in LED digital technology and magnetic components that help protect forklift operators and any pedestrians in the warehouse environment.
The RZR is a 4-lights-in-one, high-impact-resistant unit.
Here are some of its features and benefits:
· Hyper-bright ceiling tracking lights. Pedestrians can utilize to better locate a forklift that may be hidden behind racks and shelving, making it easily visible in the pedestrian's peripheral vision.
· Work lights that work. Forklifts work on the vertical plane and the horizontal plane. An added benefit is it's less blinding to pedestrians and other operators because of the 170 degrees of floor-to-ceiling coverage as opposed to wall-to-wall coverage.
· Extended red zone coverage. Significantly improved coverage and brightness from the end of the counterweight to approximately 6 feet in front of the forks.
· Forward strobe lights. Mounted on the front of the truck, now more visible when used with the standard strobe light on the rear of the truck. The warning area is now greatly increased both front and back.
The Red Zone Rebel is easily installed on the mast using high-performance industrial strength magnets.