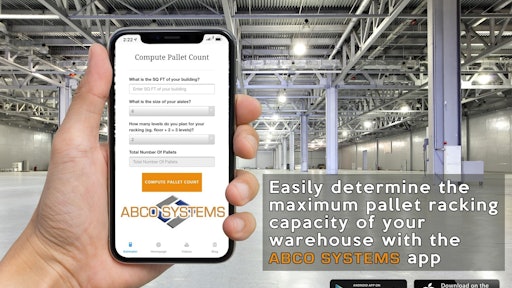 ABCO Systems, a leading material handling engineering and construction firm, announced the launch of its Warehouse Racking Estimator App, available on the iTunes and Google Play stores.
The ABCO Racking Estimator app is an innovative mobile tool for commercial realtors, warehouse managers, architects, construction planners and others involved in supply chain planning. Using the ABCO app, users can rapidly determine the potential storage racking capacity of a building based on building dimensions and customer requirements. Conversely, users can also calculate the appropriate building size capable of accommodating a company's particular racking needs.
According to the consulting firm Armstrong & Associates, the third-party logistics sector is estimated to continue growing, from $894 billion in 2018 to over $1.1 trillion by 2022.
"Companies face increased pressure to maximize efficiency and profitability in every aspect of their warehouse and distribution facilities," said Seth Weisberg, Chief Executive Officer of ABCO Systems. "ABCO has consistently invested in developing innovative solutions and tools to help our customers engineer, build and equip their facilities efficiently. By offering the ABCO Warehouse Racking Estimator app to the public free of charge, we want to help companies up and down the supply chain capture greater efficiency in their operations."
The ABCO Racking Estimator app is available on the iTunes Store for iPhone and iPad, and on the Google Play Store for Android devices.