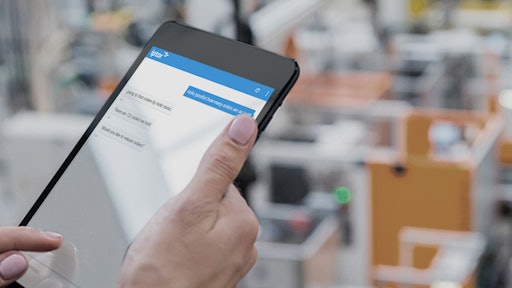 Iptor
Iptor Supply Chain Systems has further embraced cutting edge cloud technology with the official launch of "Sara," its AI chatbot. Sara gives customers detailed, big data driven, real-time insight into their Iptor DC1 and IP1 ERP platforms and is ideally suited to service companies for whom customer support is a critical success factor.
The launch of Sara signifies the company's transition toward a "zero UI" and micro services approach along with conversational interfaces, driven by voice and chat. To enable this, the bot incorporates both IBM and Google technologies, with it relying on IBM Watson Assistant technology and Google Assistant, providing the ability to connect with Watson to delivery both, a voice and chat enabled interface. Consequently, Sara can run anywhere (both on cloud or on-premise) by using IBM Watson Assistant. The conversational interfaces will grow exponentially in the coming years, replacing the more traditional mobile or Graphical User Interface (GUI).
"The launch of Sara underlines our path towards Zero UI and micro services and shows how we are innovating for our customers. The chatbot has the potential to add significant value not only by improving customer satisfaction but also by reducing staff costs. We are looking forward to working with our customers to help them support their users in the best way possible," Christopher Catterfeld, Iptor Chief Marketing and Product Officer says.
Sara is integrated in real-time with Iptor's ERP platforms, Iptor DC1 and IP1, via the connectivity layer "aperio." The chatbot provides a flexible framework which can be matched to a customer's branding and then adapted to meet their users' requirements. After the launch of Sara, Iptor is now looking for further customer input to tailor the assistant to their needs. For example, there is the opportunity to add additional IBM Watson services such as Tone Analyzer which allows Sara to analyze an end-users mood and make decisions based on this.