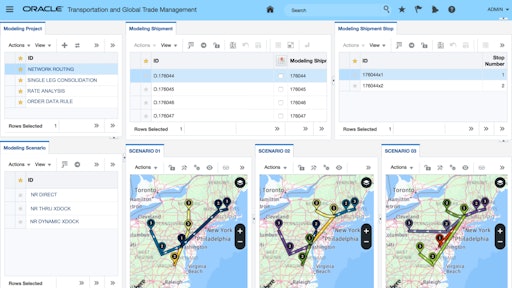 Oracle
Oracle is helping organizations design and operate efficient and agile supply chains with a series of logistics management updates to Oracle Supply Chain Management (SCM) Cloud. The updates include a new logistics network modeling product and enhanced transportation management and global trade management capabilities. The latest innovations help customers drive better business outcomes by enhancing supply chain responsiveness, optimizing shipments and asset utilization and improving productivity across global supply chains.
"Expectations are not only increasing, they also are constantly evolving. To meet these demands organizations need customer-driven supply chains that deliver the agility required to rapidly respond," says Derek Gittoes, vice president, SCM Product Strategy, Oracle. "Disruptions due to customer demand volatility, new product introductions, government regulation changes, and a host of other factors, leave supply chain professionals struggling to adapt. To eliminate this guessing game of how best to respond, we are giving our customers the insights they need to improve decision making and increase efficiency of logistics operations."
The company has added a new Logistics Network Modeling product to the Oracle Logistics Cloud to help organizations easily analyze and response to changes. The product enables customers to analyze logistics networks using real-time, operational data all within the context of their own cloud environment. Unlike point solutions that often inaccurately model real-world conditions, Logistics network Modeling analyzes real production data in the context of a customer's unique rules, policies and planning algorithms to show the true impact of change on logistics operations.
"With global trade policies in flux, organizations of all sizes are struggling to make sense of changing regulations and unstable global duty rates," says Gittoes. "To help our customers combat global trade instability and improve efficiency, while lowering costs and minimizing risk, we have introduced a series of updates to Oracle Transportation Management Cloud and Oracle Global Trade Management Cloud. The latest updates will help our customers reduce risk and take advantage of preferential trade contracts and agreements."
To help customers lower supply chain costs, reduce supply chain risk and adapt to evolving trade regulations, Oracle has also update its Oracle Transportation Management Cloud and Oracle Global Trade Management Cloud. The latest updates enable customers to better support trade compliance and customs processes. The net result is more effective use of preferential trade agreements,w hich leads to lower supply chain costs and reduced risk.
"Goods are traveling further and faster than ever before, and as supply chains flatten the globe, understanding the complexities and interferences that may arise in real-time can be a game changer for those orchestrating the operations," says Victoria Brown, research director of Global Supply Chain at IDC. "Furthermore, being able to not only manage those interruptions, but also the cross-border considerations at hand, expedites and simplifies global operations management for shippers helping them take back control of their cargo and freight."