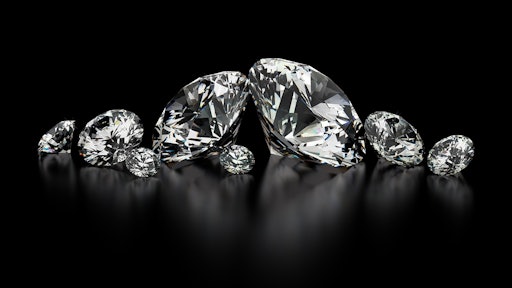 The jewelry industry will soon have ultimate traceability as it prepares for two different blockchain initiatives.
Tracing jewels from the mine, to the refiner, through distributors and so on will finally give retailers the much needed relief that they are sourcing their materials from reliable practices. The digital will track how the jewels move throughout the supply chain, providing ultimate visibility.
Forbes reports that jewelry industry currently has two blockchain initiatives that are taking on any challenges the sector may have. De Beers announced its Tracr platform back in May. The ledger was tested on larger diamonds earlier this year and is expected to be available to the rest of the industry by the end of 2018.
Another blockchain led by Richline Group is using IBM's TrustChain platform, Forbes reports. The technology is already being used by five diamond and jewelry companies and includes Underwriter Labs which has a history of third-party verifier of supply chains, Forbes reports. TrustChain will welcome all jewelers by 2019.
Both blockchains are developed by sponsoring companies on behalf of the jewelry industry and there will be no charge to join either system, Forbes reports. The ledgers will have privacy controls throughout their platforms so companies can participate in the technology without exposing sensitive data. Traceability is the goal of the technology, not full transparency.
To read the full original article, please click here.