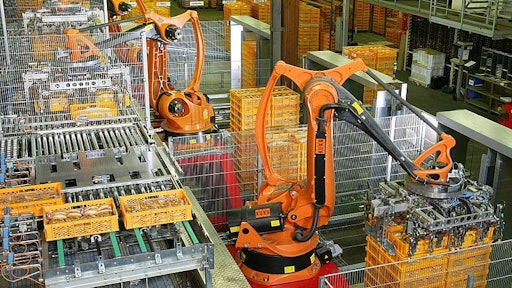 According to the Manufacturer, global sales of industrial robots reached a new record of 280,550 units in 2017.
China reportedly had the largest growth, upping 58 percent, while sales in the US increased by 6 percent. The publication reports that China installed around 138,000 industrial robots in 2017 and the US sold 33,000.
According to the World Robotics Report 2018, the automotive industry continues to lead global demand for industrial robots. Over 125,000 units were sold in this segment, with an equivalent growth of 21 percent.
The Manufacturer reports that the metal industry had the strongest growth with 54 percent, the electronics industry followed with 27 percent and the food industry rose 19 percent.
Real production is increasingly becoming more connected with the virtual data world, opening up a new possibilities like machine learning. Companies are starting to turn toward robotics to acquire new skills through learning processes.
The robotics industry is working on simplifying the handling of the machines. The Manufacturer reports that industrial robots should be easier and faster to program in the future by using intuitive processes. The development paves the way for collaboration between humans and robots without protective barriers, offering new approaches to flexible production processes.