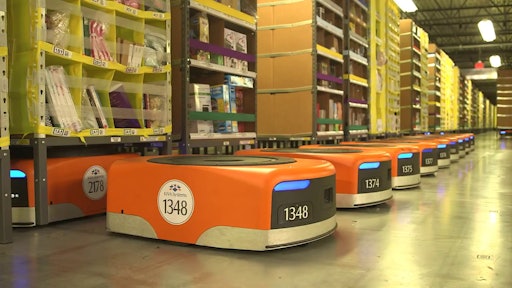 Robots have been a staple in Amazon's warehouses for some time now, however, now the automation is making its way to the company's headquarters.
Bloomberg reports that the employees who negotiate multi-million dollar deals with major brands are being replaced by technology that predicts what shoppers want and how much to charge for it.
Machines are being humans at critical inventory decisions. With the new technology, the e-commerce giant will no long have to play the guessing game when it comes to ordering.
According to Bloomberg, former and current employees have said that the team that helped lure brands to Amazon is being merged with a group that runs the marketplace, an automated platform that lets anyone with an internet connection price, market and sell their own goods on the platform without having to interact with anyone. Allegedly, employees aren't surprised that the e-commerce powerhouse is using artificial intelligence wherever it makes sense.
Amazon has said that its addition to automation across the company is to better serve customers, Bloomberg reports.
The retailer began automating its warehouses several years ago. According to Bloomberg, humans could override the machine's decisions at first, but tinkering was discouraged as machines proved their precision. In order to override any decisions the machine made, an employee had to justify why.
However, faith in technology grew among workers.
Bloomberg reports that the marketplace was first developed a new was of doing business that required fewer middlemen and removed the risk of buying inventory. In 2015, when the value of goods sold through the platform exceeded those sold by the retail team, helped funnel money into projects like Amazon Web Services and Alexa. According to Bloomberg, the marketplace generated twice the operating profit margin of the retail business. This caused brands to become more interested in selling on the marketplace where they could control their products, not Amazon.
Automation has little excitement on employees that work for the company, though. Teams that Prime Now and AmazonGo now have less projects to work on, creating a rare round of layoffs that occurred earlier this year.