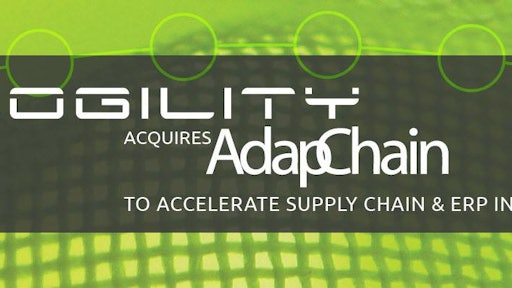 Logility Inc., a provider of collaborative supply chain optimization and advanced retail planning solutions, announced it acquired privately held AdapChain, a U.S.-based developer of advanced integration solutions.
AdapChain's technology speeds and simplifies the complex integration of supply chain with enterprise resource planning (ERP) solutions through a template-based approach. AdapChain's AdapLink (now Logility Voyager AdapLink™) enables companies to enhance their supply chain capabilities by quickly integrating the rich transaction and master data from their enterprise systems with Logility Voyager Solutions™. Today's announcement builds on years of collaboration between AdapChain and Logility to develop an application with ERP templates that redefine and simplify supply chain integrations for companies around the world.
As today's fast-paced business environment grows increasingly more complex, companies find their ERP and related enterprise business solutions do not offer the rich breadth and depth of capability provided by Logility's advanced planning and optimization solutions. The continued adoption of more mature business processes, such as sales and operations planning (S&OP) and integrated business planning (IBP), and the ability to leverage the Internet of Things (IoT) further drives the need to connect multiple enterprise systems across the organization. Voyager AdapLink simplifies the process of connecting these systems, including those from Infor, JDA, Microsoft, Oracle and SAP, with Logility's advanced supply chain and retail optimization solutions to drive additional insight and visibility. By simplifying the integration and upgrade process, companies are able to realize lower total cost of ownership and increase the rate of system adoption within the organization.
"For more than 18 years, we have helped develop an innovative solution that turns the complexity of enterprise-wide application integration into a quick, simple and repeatable process," said Svenne Juul, president of AdapChain. "I am excited to join the Logility team as we work together to accelerate the deployment of our solutions, and develop new capabilities that will further help companies reduce the time and cost of enterprise-wide integrations."
"Acquiring AdapChain extends Logility's ability to deploy innovative supply chain and retail optimization solutions more quickly and at a lower total cost of ownership than our industry peers," said Allan Dow, president of Logility. "Many Logility customers around the world have already realized significant benefits through the use of Voyager AdapLink. And we have identified additional investment areas to deliver new efficiencies and harness the exponential growth of data that will drive tomorrow's hyper-responsive supply chains."
Highlights of Voyager AdapLink include:
Application-based integration, which delivers a comprehensive framework for continued innovation, while providing advanced capabilities for error checking, data validation and transformations. Voyager AdapLink provides a quick, simple and repeatable process for supply-chain-to-enterprise-system integration.
Pre-built integration templates that support a wide range of supply chain and ERP configurations. Separating the integration component from the underlying ERP and supply chain management technologies eliminates the need to specify, develop, test and debug new components. This approach reduces risk, increases integration quality, and shortens the payback period during the initial implementation and future for upgrades.
Data from multiple enterprise systems and beyond the four walls, including the IoT and social signals, that can be tightly integrated to support the needs of advanced planning processes, including S&OP and long-range IBP.
Net change management and distributed processing to synchronize high SKU volumes in less time by only exchanging data that changed since the last update. This ensures scalability and speed. By reducing the load and return time, more time is available for high-value scenario analysis and business optimization of the supply chain.
Established business rules that proactively identify incorrect or incompatible data, populate these data elements and direct action through a corrective workflow. This process streamlines rollout and significantly reduces the need for costly manual intervention.
The financial terms of the acquisition were not disclosed.
Companies in this article