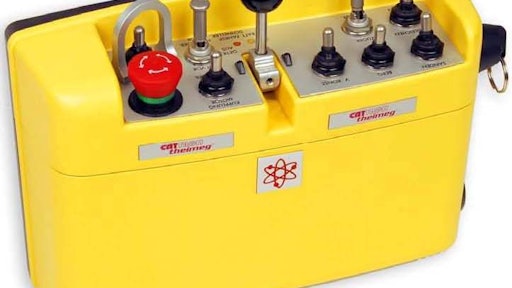 St. Louis, Mo.—Sept. 18, 2012—Global technology company Laird Technologies Inc., which designs and supplies customized performance-critical components and systems for advanced electronics and wireless products, now showcases new features of its TH-EC/LOII remote control system for locomotives at InnoTrans 2012, held until September 21 in Berlin, Germany.
Specifically designed in compliance with the European safety standards for locomotives EN 50239, the TH-EC/LOII offers new possibilities for streamlining the railway industry. A new feature of the system allows the operator to control electric switch points while also controlling the locomotive with the same remote control system. This helps to reduce the risk of injuries and saves time during the shunting process.
"We are excited to exhibit this new feature at InnoTrans 2012," said Volker Böckenholt, Sales Director for Railway Systems, Laird Technologies. "The show has grown exponentially in recent years and offers Laird Technologies a great opportunity to showcase our industry-leading products to a wide audience in the rail industry."
With over 100,000 visitors and 2,000 exhibitors at the previous event, InnoTrans 2012 looks to increase their impact on the rail industry. Visit Laird Technologies in hall 6.2 at booth 143 at the Messe Berlin GmbH during the show.