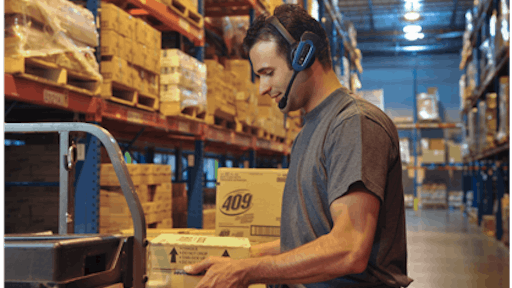 Pittsburgh—Sept. 12, 2012—Voice-enabled solutions provider Vocollect (of Intermec Inc.) launched its SRX2 wireless headset to significantly enhance the operational efficiency of workers in distribution centers (DCs) and warehouses. The SRX2 enables shared use of headset electronics across multiple shifts for a lower total cost of ownership.
With the introduction of Vocollect's SoundSense technology that continuously listens to and blocks environmental sounds in the DC and warehouse, the SRX2 provides a 50 percent reduction in ambient noise in comparison to other leading distribution environment headsets. With better recognition, workers achieve higher accuracy, less errors and improved productivity.
The highly ruggedized, yet compact, SRX2 wireless headset is designed to withstand and work equally well in coolers, high noise and fast-moving piece-picking environments. The SRX2 provides optimal recognition and response in freezer environments with temperatures as low as -22 degrees Fahrenheit/ -30 degrees Celsius.
"Woolworths is currently performing tests on Vocollect's new SRX2 wireless headset," said Wayne Ellison, Head of Move (logistics) with Woolworths, the largest food retail company in Australia and second largest in New Zealand. "We have seen the business benefits that the original SRX provides first-hand from a wireless perspective. The SRX2 with its modular design now allows Woolworths the opportunity to be able to realize the benefits of wireless, while being able to allocate a headband to each operator. We believe this will result in greater user acceptance from a hygiene/personalization perspective and a reduction in time for our hand-out/hand-in process."
The SRX2 combines Vocollect's Advanced Speech Recognition Protocol that ensures zero loss of speech data while communicating with Vocollect Voice computers with enhanced data and sampling rates to provide an exceptional voice interaction experience for end users.
"The SRX2 sets an entirely new standard for headset performance, raising the bar in speech recognition quality, end-user experience, ergonomics, and investment value," said Jay Armant, Vice President, Product Management, Vocollect. "As the market leader in end-to-end voice solutions, our partners and customers count on Vocollect to continually introduce industry-leading solutions like the SRX2 that help solve key business challenges."
Improved asset management provides the ability to track and manage Vocollect headsets and batteries in the DC and warehouse. The batteries are designed to last two shifts in dry environments and one full shift in freezer environments; increased intelligent battery management also predicts battery shift life months in advance. These capabilities, along with the modular headband, result in higher levels of convenience for DC and warehouse managers, who can spend less time, effort and money maintaining spare headsets.