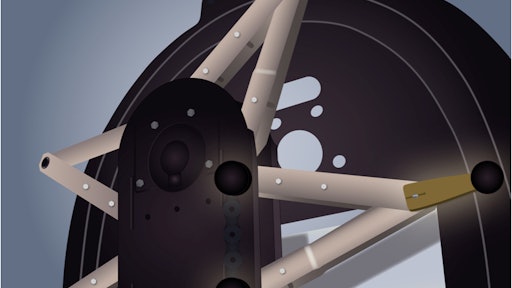 Hatfield, Pa.—June 18, 2012— Automated storage and retrieval systems provider Sapient Automation's self-lubricating wheel is a new component in the Avenger Vertical Carousel's scissor arm design to provide even higher levels of reliability. The self-lubricating wheels help extend its operational life in storage and retrieval applications while reducing maintenance costs.
Generally, vertical carousels require periodic lubrication as part of a preventative maintenance routine to assure reliable operation. Self-lubricating scissor arm wheels reduce maintenance downtime and extend service life. This is particularly valuable during busy times when the unit is accessed more than normal and if the unit is overloaded. Likewise, the new wheel is valuable in providing whisper quiet run time especially when compared to other metal, plastic and non petro-based materials.
Instead of using a single scissor arm design—which historically vertical carousels do—the Avenger carousel's scissor arms are double reinforced. Instead of using a pin to attach the arms to the rollers in the guide track the Avenger arm's use a forging for maximum reliability. Likewise, historically vertical carousels use one location on the chain to support two carriers or shelves. If there is any disturbance or pressure on the arms it will typically bend and destroy multiple arms in a cascading effect.
The Avenger vertical carousel's arms mount to the chain in their own exclusive position. If there is any pressure or stress, it is not passed through to the other arms. This eliminates the potential for any cascading effect and unit failure. When the arms design is combined with the new self-lubricating wheels, the reliability factor is increased.
The Avenger Vertical Carousel consists of rotating shelves that move up or down in response to operator commands, delivering items at an ergonomically positioned window for easy removal. Vertical design maximizes the use of overhead space and can recover up to 75 percent of required floor space for traditional rack and shelving systems.