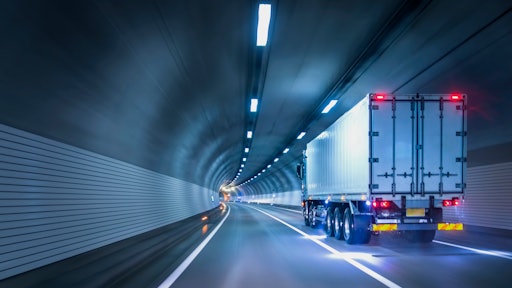 Getty Images
With the proliferation of sensors in truck fleets, supply chain operators now have access to massive amounts of data that can enable actionable insights to improve operational efficiency, driver safety and customer experience. Too often the challenge can be too much data.
Data overload will be a real challenge for the industry over the next few years as experts predict a continued increase in the amount of data generated and available for use in fleet management applications.
It's worked its way into the fabric of the supply chain industry. Data paralysis, the act of having so much data you don't know what to do with it, can cripple operations. Analysis paralysis means inefficient overthinking, wasted time and inaction.
With so much information available, where do you start? As a manager of supply chain operations, how can you ensure that you are leveraging your data to optimize value for your customers and your organization? One critical element of addressing the challenge is to use the power of location intelligence to unlock the insights you need to take action.
Rich and intelligent location data brings order to big data, delivering actionable insights and usable business information. Detailed, real-time location intelligence drives continuous incremental improvements in fleet and vehicle management systems, delivering competitive advantages to supply chain innovators with an eye on the future.
Let's consider three examples of how location intelligence can help future-proof businesses, avoid the pitfalls of data paralysis and make more informed decisions.
Improved driver safety
Driver safety and driver satisfaction is critical for fleet managers in remaining competitive and managing risk. With a driver shortage predicted to persist over the next several years, retention of safe and experienced drivers is top-of-mind. In addition, monitoring driver behavior and measuring compliance with road use regulations are critical to limiting your company's potential liability and cost of operations.
Location intelligence plays a key role in powering applications that monitor truck driver behavior and enables the analysis needed for fleet managers to efficiently manage and coach their drivers. Location intelligence ensures compliance with speed limits and safe responses to heavy traffic, extreme weather conditions or any other legal or physical restrictions on the road.
Rich, real-time location data can make the difference between a costly and life-threatening accident and a careful driver maintaining your brand's trustworthiness.
Location intelligence is the critical piece for these types of applications to work, accurately analyzing every drivers' behavior in real-time. Fleet managers can identify drivers that meet their company's performance requirements and provide incentives to the best drivers with impeccable records to stay with the company.
Consistently accurate ETAs
In today's age of Amazon and Uber, the value of consistently offering customers and their end-users reliable and highly accurate predicted times of arrival is higher than ever.
Accuracy of ETA estimations can be fine-tuned, whether organizations are planning a route on the fly or days ahead. Real-time traffic information combined with location intelligence gives an essential and comprehensive picture of current road conditions that will impact truck-specific directions and arrival times.
It also helps customers optimize their route planning in advance by taking into account how traffic flows historically on a selected roadway at a given point in the day. Knowing the precise locations of your vehicles on the road and their destinations, then adding real-time traffic and roadway information, results in far more accurate ETAs.
Utilizing traffic data and historical insights allows forward-thinking companies to provide customers with highly-accurate ETAs in minutes and seconds, rather than hours or days.
Efficient fleet management
For example, the latest location intelligence that allows Amazon Connect to offer cloud-based customer service comes from HERE Technologies. HERE's location intelligence platform features the latest location and tracking solutions, enabling customers and service technicians to communicate and connect better than ever before.
A supply chain manager's main objective should be to capture and analyze, in real-time, any location-based information on any given street that impacts a driver's journey. Adding real-time intelligent location data to tracking and fleet management platforms helps supply chain managers figure out the most efficient ways to deploy their mobile assets every day.