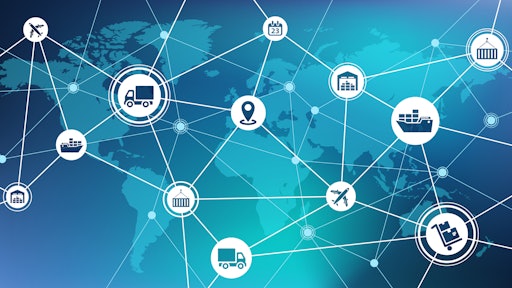 j-mel/stock.adobe.com
America's warehouses are in trouble. Amid unprecedented demand and pandemic backlogs, warehouses are struggling to effectively move record numbers of inventory through the global supply chain. A survey from Vecna Robotics and CITE reveals further insight into the obstacles behind the current state of the warehouse; with the majority of the industry 10-25% understaffed, warehouse and distribution center managers are rightfully concerned about their ability to maintain momentum as they face an uncertain future.
With no end in sight to the labor shortage, warehouses need to accelerate digital transformation to remain competitive on a global scale. Yet, between mounting financial fears about return on investment (ROI) and training times, executive discussions about technology solutions in the warehouse are still few and far in between. To address changing market dynamics, digital transformation in the warehouse must include investment in intelligent automation with a few considerations.
Barriers to Digital Transformation
With e-commerce sales set to reach $1.1 trillion in sales this year, industries ranging from retail to manufacturing must rework existing warehouse workflows to quickly process thousands of pallets a day. Today's warehouses have traditionally subsisted on the forklift truck, an early 19th century ingenuity typical of most warehouse operations. Although its ability to lift heavy loads in half the time as a human worker are well-documented, forklifts lack the ability to maneuver tight, narrow warehouse spaces and present a critical safety hazard to human workers. The most recent OSHA statistics estimate that 35,000 serious forklift-related injuries occur a year.
With the industry ripe for alternative material handling solutions that can deliver increased throughput without compromising on safety, AMRs or autonomous mobile robots present the most effective end-to-end solution companies seek. Despite growing interest, companies cite various barriers to digital transformation in the warehouse that prevent them from pursuing further action.
Inflationary Pressures and ROI
Amid widespread inflation and a growing pattern of cautious investing, companies cite cost and ROI as the top concerns for adopting automation solutions. As consumer demand ebbs and flows, companies need flexible solutions that can be scaled up or down depending on warehouse needs. Traditional warehouse infrastructure like robotic arms or large fixed-infrastructure grids are effective, but often lack the flexibility for multi-purpose uses that AMRs can provide instead. Additionally, traditional infrastructure often necessitates large costs upfront, with a narrow trial period that doesn't guarantee companies will see any ROI at all.
With the average cost of warehouse operating expenses now up to $2 to $3 per square foot, and rising human labor costs, companies have little wiggle room for a "wait and see" digital transformation strategy that may or may not deliver the benefits they seek. AMRs are recognized for their ability to swiftly deploy material handling equipment, with less install time and flexible financing options like Robots as a Service (RaaS), ensuring companies can immediately reap the benefits from automation that could otherwise take them years to see with traditional infrastructure.
Another consideration that is often overlooked by operators when evaluating the ROI of an investment in automation are the hidden costs of not automating. The double whammy of persistent labor shortages and the increased costs of labor has made the case for automation that much more compelling, but many fail to contemplate the downstream excessive costs of maintaining a manual-only operation. Hiring, turnover, and training are all hard costs that need to be considered even though they may not directly hit an operator's cost center. Also, chronic understaffing drags site productivity and impacts the job satisfaction of existing workers, not to mention the costs related to safety issues of manual labor.
Training and Implementation
Major companies ranging from Amazon to Target have turned to warehouse automation to supplement existing workflows and free up bandwidth for higher value projects. Yet with exorbitantly high costs, smaller warehouses have long been locked out of more innovative wide-scale digital transformation projects.
With a flexible pricing structure like RaaS, even smaller warehouses can justify initial automation investments with a low, regularly scheduled payment that includes maintenance, support and service costs and does not require any purchased assets up front. This enables customers to simplify the implementation process through a quick deployment and trial period, without long-term commitment.
Workflows are the key to successful transformation of the supply chain. By pursuing a five-step plan for successful deployment, companies can smoothly transition their labor-intensive operations to automation-assisted workflows that enable humans to do their jobs faster, and safer. On average, AMR deployment and training can take as little as three to six months, a far cry from the standard year typical of other solution deployments. Before attempting any major tech investment, companies should work with providers to assess, plan, deploy, learn and scale, in a comprehensive roll-out to boost the chances of digital transformation success.
Resource and Space Constraints
Automation depends on more than individual robot deployment. To reap the full benefits of automation, warehouses may require a complete overhaul of existing workflows, a daunting logistical task for smaller resource and space-constrained warehouses. For smaller centers, digital transformation can look like expensive heavy equipment that requires long stretches of conveyor or protective cages. In most cases, operations managers elect to continue with mostly manual workflows despite their failure to deliver increased productivity and safety.
The modern age of automation offers something different, however. Micro-workflows or smaller processes long ignored by traditional automation, such as waste and dunnage removal, and parts delivery between work cells and processes, allow even the smallest warehouses to drive productivity. And with the industry's adoption of RaaS, budget-constrained warehouses can reduce the need for high upfront CAPEX expenses.
Warehousing facilities face a troubling path ahead; as consumers continue to increase their expectations for fast delivery and low prices, warehouses are under pressure to do more with less. With an understaffed labor force struggling to meet consumer demand at the speed required, intelligent automation represents the key to digital transformation in the warehouse. Although initial hesitation can hinder adoption, automation can usher in a transformative new phase of transformation in the warehouse that starts with the simplest of workflows.