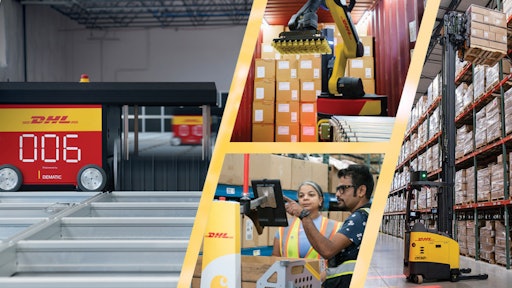 *This content is sponsored by DHL Supply Chain*
Warehouse and transportation management platforms have been essential in enabling supply chain managers to control inventory and orders in ways that improved speed, productivity and accuracy. But in today's high-demand and increasingly digitalized supply chains even the most robust platforms don't have all the capabilities required to deliver the efficiency and insight businesses are seeking.
A Better Approach
That's led operators to evolve their approach to IT. With market-leading WMS and TMS platforms at the core, DHL Supply Chain employs microservices that extend the functionality of core platforms while also integrating complementary systems and tools that increase visibility, enable more effective use of data, improve labor management and streamline the integration of robotics and other forms of automation.
The result is an integrated IT "ecosystem" tailored to operating requirements and capable of maximizing operational performance while creating the foundation for accelerated digitalization.
By providing a core set of capabilities that can be customized and extended based on business and application requirements, our approach to supply chain IT delivers a seamless and collaborative digital experience that enables process orchestration, end-to-end visibility and advanced analytics.
Why IT Matters
This evolution was necessary because warehousing and transportation requirements are different today than they were five years ago. Global and multi-national supply chains are more complex than ever and customers across industries expect a level of speed, predictability and visibility that simply wasn't possible in the past.
Growth in eCommerce and omnichannel distribution, for example, has driven massive changes in supply chain processes, forcing them to be re-engineered to support smaller orders and higher volumes with faster cycle times. And the impact hasn't been limited to supply chains supporting direct-to-customer fulfillment.
eCommerce has reset customer expectations across virtually all industries. Regardless of the complexity of the route for a particular shipment, customers today expect to be able to track products in transit the same way they track the products they purchase online in their personal lives.
Our customers expect end-to-end visibility from receiving through delivery. That can only be achieved by integrating multiple systems and tools across the supply chain and then presenting information in a way that allows customers and operations personnel to quickly access what they need. We do that through our MySupplyChain platform.
Another way eCommerce growth has had a ripple effect across supply chain operations is by increasing demands on already tight labor markets. That's made maximizing productivity a necessity, and DHL Supply Chain's approach to IT plays a dual role in addressing this opportunity.
First, we use the deep knowledge we have gained as the largest operator of our chosen platforms to configure and operate these platforms in ways that unlock capabilities that improve efficiency and productivity. Where that isn't possible, microservices – applications that operate as an extension of the WMS – are deployed to address specific processes such as order grouping, tasking, parcel management and reporting.
Secondly, IT is a key enabler of automation. DHL Supply Chain integrates a robotic process automation module into its ecosystem to enable AI-powered automation and has developed an integration hub that simplifies automation integration and establishes the foundation for orchestration.
Finally, IT is where the data lives and just about every executive is interested in doing more with the massive amounts of data generated across the supply chain. Leveraging its core platforms, powerful data intelligence and visualization tools, and data analytics specialists, our IT ecosystem supports data-driven decision making and delivers actionable supply chain and business insights. The architecture of the ecosystem also enables the smooth integration DHL Supply Chain's growing portfolio of use case-driven analytics and AI solutions.
Enabling the Enabler
An advanced IT ecosystem requires advanced IT infrastructure. DHL Supply Chain has migrated to a cloud-based enterprise architecture that maximizes availability and resiliency through capabilities that eliminate single points of failure, enable disaster recovery, and support online upgrades and patching.
The architecture also scales automatically with workloads and includes encryption methods and security protocols as part of our industry-leading information security practices. Another benefit of this architecture is that it has enabled DHL Supply Chain to take a leadership position in supporting an as-a-service model that allows IT costs to be operationalized.
Five years ago, IT's value was primarily our ability to implement best-in-class platforms as fast as possible at the lowest costs, but today, IT is an enabler of everything that is happening across the supply chain and plays an essential role in helping our customers achieve their supply chain goals. IT systems had to get more complex as part of that evolution, but a well-architected and tightly integrated ecosystem absorbs that complexity and simplifies operations.
For more information on DHL Supply Chain's IT capabilities and solutions and how they are tailored to industry and customer requirements, contact one of our experts.