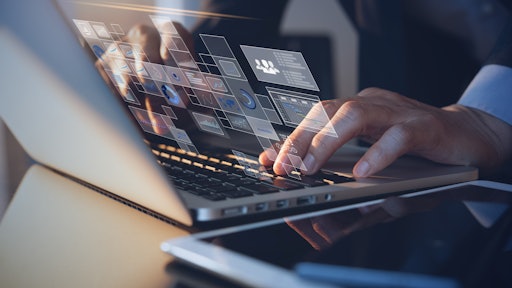 tippapatt/stock.adobe.com
Within the next five years, the supply chain analytics market is forecasted to grow by more than $10 million, mostly due to an increased need for predictive analytics. While the growth of data analytics is exciting and imperative for business growth, decision makers still need to take a critical look into how they're holistically implementing this type of intelligence into their supply chain strategy to be successful.
Due to high volatility in the market, bringing on data scientists to fill roles such as risk management should be a top priority for hiring managers. However, employers aren't looking to stick to the status quo and recruit talent that they had been previously. Companies are looking for data scientists who fully comprehend the intricacies of the industry, not just the broader view. As the supply chain continues to be subject to vulnerability from the economy and general evolution of the industry, identifying and implementing hiring strategies to mitigate risk will be key to ensuring continuity.
The competition for specialized talent
Data scientists will soon be at the hub of many risk and growth investments as companies continue to push for automation and regulation – saturating the market with increased demand for top talent.
This appetite for qualified candidates is being seen across various sectors within the supply chain, but hiring managers are quickly realizing that the market still lacks an adequate amount of talent to feed this increased demand since big players and competitors in the space are quickly scooping up desired individuals. These large companies have the resources and teams to devote to specialized recruitment, whereas middle sized businesses may not always have the means to challenge competitors, leaving the rest of employers wrestling to land talented individuals.
Within supply chain, 80% of data is considered unstructured or dark data and without hiring the proper talent to analyze it, companies lose out on those valuable insights. The problem, however, is not a lack of willingness to hire, but rather a lack of available talent to fill the demand. Of course, everyone wants to be innovators in data analytics for the supply chain, but that starts with knowing how to recruit the right candidates.
First and foremost, employers need to look at what competitors that are successfully onboarding new talent are offering and what these organization are providing that's giving them the upper hand to understand the desires of job seekers in the industry.
Some employers aren't taking these desires into account and have failed to realize that candidates entering these types of roles are looking for, most simply, market value compensation. Highly sought out individuals know their value and they're looking for companies who can not only recognize that but match their needs. Employers need to use a comprehensive lens to consider baseline factors such as cost of living, sign-on bonuses, and equity, in order to stand out among competitors.
Employers are looking in the wrong places
When searching for the best data analytics talent, employers shouldn't pigeonhole the search to candidates who only have worked in the Supply chain – this will limit the organization's ability to find employees with the right skillset. Of course, finding a candidate with previous data analytics experience within the supply chain would be an ideal match. However, finding these types of candidates in a newly developing and competitive market requires a match in benefits that companies haven't yet, or aren't willing, to offer. However, that doesn't mean there isn't ample opportunity to find the perfect individual if organizations know what to look for, along with how to attract them.
Employees who previously worked in heavily regulated industries such as energy and pharmaceuticals have transferable skills and knowledge to work through market volatility, giving them the upper hand when entering the Supply Chain. When unpredictable changes hit the industry, the supply chain will need talent that's incredibly nimble, and able to adapt to market changes.
Another common mistake is employers quickly disregarding applicants who haven't held an exact title-match in previous roles. Managers usually fear the candidate is not a "perfect" fit on paper, but those with applicable expertise can easily adapt to the complexity of the industry and can learn very quickly compared to those who might have the ideal title but have previously worked in a department that taught them incompatible skills.
Expanding hiring into overlooked departments
Once the right talent has been employed, data analytics specialists must be implemented beyond just revenue-producing departments or for cost-cutting measures. Specialized talent has similar experience in recognizing patterns and spotting trends – a necessity for helping organizations better understand risks before and after they happen.
Hiring predictive data analysts is extremely valuable because it can get organizations ahead of the curve and prepare for changes, such as the impact of trade regulations and the long-lasting effects of the pandemic leading to obstacles in securing raw materials. Businesses run risk of falling behind when it comes to determining supplier lead times and the optimal quantity of materials because they did not hire predictive data analytics talent.
While organizations shouldn't solely focus on hiring for revenue-producing departments, appointing talent in areas like spend monitoring can greatly benefit from the onboarding of data specialists because their skillset can identify abnormalities, callout savings possibilities, and streamline the procure-to-pay process – giving organizations a financial boost as well.
Procurement, too, is being completely changed by hiring data scientists. Employers need to recruit data specialists for niche verticals such as sourcing to make decisions around product requirements and supplier suggestions. Hiring talent that understands AI within procurement is essential to giving your company a competitive edge and will maintain stability throughout market shifts. With less than 20% of procurement teams' time being spent on value-added decision making, the help of talent that can understand and analyze data will allow more time can be allocated toward business-critical choices.
Data analytics is here to stay
As the industry continues to be blanketed by unpredictability, having the right talent is imperative to an organization's longevity and ability to withstand changes at a global level. The demand for recruiting data analytics will only continue to grow within the industry, and employers must know what top talent is looking for, where to find them and where to place them within their organization to remain successful and stand out from competitors. Changes in automation and shifts in regulations can't always be controlled, but the one thing organizations do have control over is being proactive about their hiring strategy.