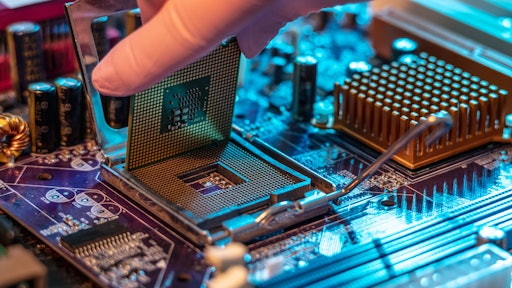 Artem - stock.adobe.com
Behind every great company is an even greater leader. And, the leaders receiving this year's Pros to Know award aren't the exception to the rule – they are the rule.
Supply & Demand Chain Executive's Pros to Know award recognizes outstanding executives whose accomplishments offer a roadmap for other leaders looking to leverage supply chain for competitive advantage.
Marina Mayer, editor-in-chief of Supply & Demand Chain Executive and Food Logistics, sat down with Karen Sage, chief marketing officer for Syncron and one of this year's Pros to Know winners, to talk about why an optimized supply chain creates brand resonance that lasts longer than any single transaction.
Supply & Demand Chain Executive: Let's first talk about you. Tell me a little bit about yourself and your journey to get to this current stage in your career?
Karen Sage: I like to warn people, I am probably one of the few introverted, engineering educated CMOs you will come across in your lifetime. However, because of digital transformation, my profile is less and less unusual; most functional leadership roles are now technical, whether they be labeled as such or not.
I started out as a technical architect, software developer, innovator in the information technology networking domain. While I enjoyed creating new things, I found even more passion and aptitude when it came to bringing them to market and being able to articulate how technology solved complex problems.
My entry into the supply chain domain came when I met a CEO of a company on the procurement side of supply chain. He had struggled through several marketing leaders not being able to move the needle in his highly numbers and complex systems-oriented company. I lucked out. He was data-driven, so was I. He was systems oriented, so was I. He said, "I can tell you're smart and you're a good marketer what the heck let me give you a chance."
Fast forward many years and I've now been CMO at several different companies transforming the go-to-market for different parts of the supply chain. I love it. Why? I love complex and very real problems that attract the most passionate, smart, results-oriented people with whom I get to partner. Supply chain industry and technology, ever-changing and always faced with the new, unexpected challenges — for me, that makes the supply chain space exhilarating.
Supply & Demand Chain Executive: What did you know about the industry before jumping into it? What drew you to the supply chain industry?
Sage: Quickly upon jumping into the supply chain industry, I learned a lot in terms of how every supply chain functional owner is different. For example, a procurement leader has very different concerns, risk acceptance rates and ways of learning than a leader who might focus on logistics operation. They are very different cohorts. I think that is why there have been different rates of the acceptance of diversity in particular supply chain roles. As a marketer, figuring out the many types of personas, their unique pain points, what they care about – are like a multi-echelon distribution puzzle that re-invents itself and changes every year. What's not to love?
Supply & Demand Chain Executive: So, here we are. The pandemic, labor shortage, unfulfilled orders, just so many supply chain disruptions. What have you and your team been doing this past year to help shape the supply chain?
Sage: At Syncron, we've been working hard to identify why, beyond the obvious, some manufacturers have done very well amid the volatility of the last two years while others have struggled. With that perspective, we've transitioned beyond exclusively developing one fits all solutions to in a deeper value and solutions role as a trusted advisor. Our experience and depth come to play as we engage to share those best practices and extend our customer's understanding and potential. Marketing has led the charge in creating a steady stream of educational resources that help manufacturers and supply chain pros understand how to steady the course and build more competitive, resilient businesses as we define a new normal.
Supply & Demand Chain Executive: If you could talk to your younger self, what advice would you give?
Sage: Don't take any bias or doubt you encounter early in your career as a sign you should be less assertive or driven. If you're stuck trying to appeal to other people's expectations, especially when it comes to gender and other kinds of bias, you won't get anywhere. This requires a reconfiguration of people's perspective and that will take too long for you to maneuver. Keep your conviction, articulating your new ideas, listen to them, but at the end of the day, stand up for what you think and show up confidently even when you are not. The doubters will get over it eventually, once you can show the actual results prove merit.
Supply & Demand Chain Executive: What are your goals for your future self?
Sage: I have really changed my thoughts about the answer to this question recently. Right now, more than ever, my focus is on mentoring, coaching, advising the next generation of leaders. The world is moving at a much faster pace than it was before. It requires kind of a different type of person to thrive in supply chain disciplines. This is the type of person I'm most able to inspire and help move to the next level. Many years ago, I was given a chance to be a new CMO and in a totally new area than being in supply chain. Someone saw my potential and drive, and they took a chance on me. Trust me, there is an entire football field of people who would not give me that chance. Today, I try to do the same where I see talent that I can grow. Traditional skillsets are important, but look for intelligence and character traits like drive, passion and grit and foster that growth when possible.
Supply & Demand Chain Executive: What are your hopes for the supply chain industry as a whole?
Sage: One of my greatest hopes for the supply chain industry is one that we're seeing actively unfold today. Awareness of its ability to not only impact our everyday experiences, but our futures. Increasingly, companies are recognizing how connected every part of the supply chain is and needs to be how supply chain is the systems engineer's ultimate challenge and it is how closely getting their supply chain function right is tied to their brand and reputation. We're seeing this in areas like sustainability. The truth is, an optimized supply chain creates brand resonance that lasts longer than any single transaction. The heavy lifting on some of the hardest problems needs to continue and even accelerate if you want to win at that game. I'm encouraged and excited about this domain, from what I see there are a lot of passionate supply chain experts that give me a lot of hope.
Supply & Demand Chain Executive: And with that, how does it feel to be named one of Supply & Demand Chain Executive's Pros to Know?
Sage: I'm honored and thrilled to be named alongside so many respected supply chain executives. After being named in 2016, I'm officially a serial "Pros to Know" and can tell you that's just as exciting and humbling the second time around.
CLICK HERE to view the full list of 2022 Pros to Know winners.