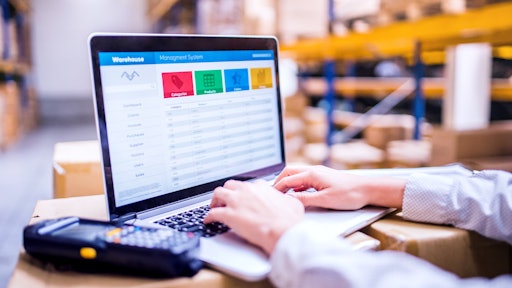 Halfpoint/stock.adobe.com
Nearly two years from the onset of COVID-19, businesses are still reeling from its impact on the global supply chain. Businesses worldwide have felt the impact of product delays, shortages and the rising demand from consumers which continues to drive shipping prices and fuel prices up. Essential products remain off the shelves while cargo ships remain fully stocked outside a port, waiting to be unloaded.
The International Monetary Fund downgraded its forecast for global economic growth for 2022 from 4.9% to 4.4%, attributing supply chain woes as a major factor in that decline. While the economic impact and global supply chain disruptions will likely not be resolved in 2022, it's not too late for businesses to take action to minimize risks in their own supply chains.
To put themselves in the best position possible, businesses need to ensure that they have a pulse on every segment of their operations and, to do so, must achieve data integrity to enhance the insights drawn from their data. While better data insights alone will not solve the supply chain crisis, it can help businesses navigate the uncertainty and unpredictability. Here are three ways that improved data integrity alleviates challenges within the current state of the supply chain:
Single-lens look product journey
Before a product gets on a shelf or in the hands of a consumer, it goes through a number of transfers. In many scenarios, a single product travels from a factory, to a truck, to a ship, to a train, to a truck, to a warehouse, and back to a truck before it ever reaches its final destination. This process can increase in complexity depending on where a product is sourced and created. As a result, a business' digital trail for its products can be fragmented, error-prone and complicated.
A business should take a bird's eye view of their operations and ask themselves: Do I know where my goods are coming from, how they are getting from one point to the next and is there a way to expedite these operations? To enable this, businesses must break down data silos. Businesses often face large amounts of product data, across a number of systems, with no consistency in format or origin. In order to get a full picture of where a product is in its journey, integration between these disparate systems is essential. Decisions about how to deploy limited resources need to be made in real time. Demand patterns for good and services have clearly been disrupted by COVID-19, but weather events are also major influencers on demand. Being able to sense and respond to not only inventory levels but extenuating data sets like footfall information indicated decreased/increase consumer activity, and real-time weather insights indicating demand for certain classes of goods is required in a modern, resilient supply chain. But unless these systems are communicating with each other, the manufacturer, logistics service providers, and retailers will not have the information needed to make trusted decisions.
Removing data silos within the supply chain along with enriching the location-based context of the information can give companies not only more insight to where products are, but help them more swiftly make decisions and changes that align with their businesses' need.
Smarter staffing based on data
According to the U.S. Labor Department's latest Job Openings and Labor Turnover report, in December, 4.3 million workers quit their jobs. The current state of the labor market is putting strain on businesses and their operations as well.
Before, warehouses may have had employees onsite 24/7 to receive deliveries. But, due to 'The Great Resignation' and the resulting labor shortage, warehouses need to be strategic with when they have employees onsite and must have a strong understanding of when to expect deliveries so they can staff properly.
The difference between 10 a.m. and 11 a.m. can be the difference in having workers onsite and a shift having already ended. By first better understanding the transit of a product and being able to more accurately predict its arrival time, they can more strategically staff their facilities to ensure the appropriate support is there for its arrival.
Again, this starts with removing data silos to allow for a full picture view of the supply chain and is then enhanced by combining information on shipments and staffing. Enriching data accordingly provides more useful insights that business decisions can be based off of.
Click here to hear about how safety and data can also help in retaining a workforce:
Diversifying your supply chain with location data
Oftentimes a business may have a single type of product coming from multiple sources. Better understanding your sources of supply and their path to your locations can mitigate unseen risks in your logistics network.
For example, for many businesses, having multiple sources of supply for paper towels was considered 'safe'. What we have learned with COVID-19 and with Climate Change, multiple sources of supply may not equal certainty of supply. Three suppliers in the same geographic region, using the same port facility are all suspectable to the same threats. In addition, two suppliers located side by side in the same industrial park, might have radically different flood or wildfire risk levels. Businesses need to understand location specific details in addition to logistical modes of transport to ensure a resilient supply network.
Solutions that combine rich location data with time-based mobile location data can help manufacturers, distributors, and retailers get a grasp of how their products are moving. Further, these solutions can make a business aware of other risks in their area like crime, wildfires or flooding. When powered by these insights, a business can make better decisions for their products, customers and supply chain operations.
Businesses conquering supply chain woes
The complexity of each of these challenges for businesses mount if they do not have a solution in place to help manage their data, enhance its quality and provide visibility into every aspect of a business' operations. If businesses do not get a handle on their operations, it can be disastrous for revenue projections, customer satisfaction and a company's reputation.
Investing in solutions that enhance data quality and data enrichment and ultimately lead to data integrity can improve how goods move from point A to their final destination and alleviate some of the stress the supply chain is currently experiencing. These insights can result in deliveries that are on time and allow businesses to pivot rapidly when needed.
While data integrity won't solve all of today's supply chain issues, it can set up businesses for success despite them.