Petinovs/stock.adobe.com
The ideal situation for any manufacturing organization is to operate at full capacity. To quantify the achievement of that goal, organizations use the measure actual production rate as a percentage of the maximum capable production rate. This measure evaluates how well an organization is using its installed manufacturing assets by calculating the actual output as a percentage of the maximum capacity. This measure also helps improve future business planning by showing production levels that could be achieved. As Figure 1 shows, top performers (i.e., those at the 75th percentile of performance) achieve 90 percent of their maximum capacity, which is 10 percent more than bottom performers achieve (i.e., those at the 25th percentile of performance).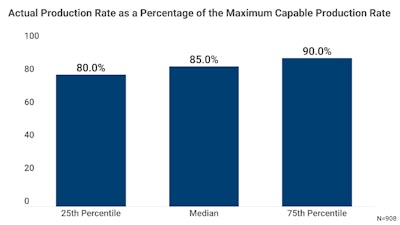 APQC finds that top performing organizations have well-defined procedures that are consistently practiced in all areas when out-of-control conditions occur related to product or process, with disciplined problem-solving steps for correction. It helps to have these scenarios and responses documented and accessible for employees to easily access if needed.
Additionally, organizations are using a variety of different systems to automate their manufacturing processes in the face of various constraints. Many of these systems help improve throughput and efficiency, reduce errors, and overcome bottlenecks in the process. More than 7 out of 10 organizations in APQC's research are using an automated system for predictive maintenance and for advanced planning and scheduling.
Autonomous manufacturing systems that self-configure and self-monitor are no longer limited to science fiction. With increasing investments in artificial intelligence, the extent to which organizations have built autonomous manufacturing systems is increasing. APQC has found that 29 percent of organizations have already significantly invested in manufacturing systems that can configure and monitor on their own, giving those organizations an improved ability to maximize their actual production rate.
Improving manufacturing productivity while avoiding the need for additional equipment or other costs remains the goal for many manufacturing organizations. Benchmarking performance after significant process changes or improvements enables organizations to gauge performance on their journeys. Continuous improvement helps organizations aim for as close to 100 percent as possible in terms of actual production rate as a percentage of the maximum capable production rate.