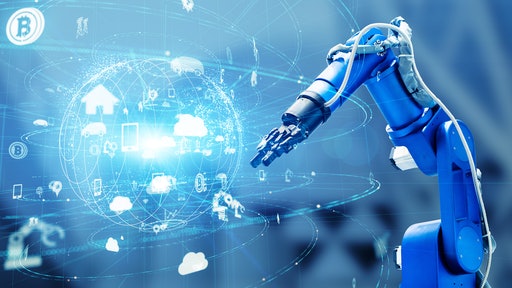 Getty Images
It's a new year, but consumer packaged goods (CPG) companies are still in a tough spot. Supply chain issues have disrupted everything – from demand, supply and material planning functions to deployment and transportation. Manufacturers are working the problem hard, but they're not able to keep pace.
Robotic process automation (RPA) can help. Companies have long relied on rudimentary aspects of RPA to handle operations such as high-volume, rules-based tasks. But, in recent years, RPA innovation has advanced, with early adopters incorporating industry and functional expertise, introducing artificial intelligence (AI) and machine learning algorithms and adding orchestration and governance layers.
The result is intelligent automation, which combines a range of technologies and introduces them within the context of a function or industry to create seamless end-to-end processes and experiences.
Here's how RPA can be put to work in the CPG industry.
Going beyond standard ERP and planning systems
Executives need to know if their forecasts are accurate as they continue to face other challenges such as production, raw material and labor issues. Traditional enterprise resource planning (ERP) systems though connected, operate in silos and take in a lot of manual input at various stages of execution. This makes end-to-end processes less and less efficient, and that adds more to the problem in turbulent times — especially during fast-moving or prolonged crises like a pandemic.
RPA — bots — however, are much faster and more precise. These software programs use algorithms to map human decision processes at every step of an execution, leveraging data-based facts within a defined process. For example, to deploy products 4-5 days out, determine the right stock transfers to address customer demand. Imagine this working for a wide range of items at specific locations, taking into consideration inventory on hand, in transit, and how much will be produced plus delivered during a given period.
Multiple bots working in concert have proven to be excellent at moving products throughout a network to fulfill demand. In fact, some savvy managers have started to rely on bots for 80% of their replenishment decisions while the remaining 20% usually require exception management efforts.
Optimizing transportation
The frequent unavailability of equipment and drivers have played havoc with supply chains during the pandemic, as have rising fuel prices. Bots can help here, too, optimizing resources by quickly investigating and reporting back on compliance levels. For example, they can determine how much volume was contracted with a particular carrier vs. how much was actually picked up. They can build intelligence over volume movements and uncover rates that work best for the organization. Best of all, the comparative analytics include market intelligence, empowering human managers to negotiate the best deals with third-party logistics (3PL) providers.
If not now, when?
Retailers want to keep their shelves stocked because promotional events and sales plans are contingent upon product availability on shelves. Beyond manufacturing challenges related to on-time delivery are a major concern– clients need to be updated on when (and how much) finished goods can be expected. Bots combined with machine learning (ML) algorithms have proven to be great at identifying causes behind late shipments and predicting when the products will arrive at the retailer's loading docks.
Getting started
RPA isn't just for crises management; putting intelligent systems in place now will reap benefits such as cost savings and a more predictable supply chain in the future, even after the pandemic is over.
So, how does one begin this journey? First, understand the objectives. Is it to reduce costs and/or improve on-time performance? Or is there another objective? Next, create a shared need with the team engaged and define roles and responsibilities of every individual involved in the project. It is critical to include certain roles/ people such as a process/subject matter expert and a technical solution architect. Next, set up of project management office and a select set of stratified testers (for user acceptance testing).
Then the team is ready to get to work. Approach assessment and design with care, reviewing each process objectively for automation potential and placing special emphasis on expected ROI. When it's time to implement, start with a pilot. A phased approach will help you spot any small issues before they become big problems. Usually, bots can be up and running on top of the ERP systems in approximately 2-3 months.
Finally, RPA isn't a one-and-done project. The focus should be on continuous improvement. Track best practices and cascade them throughout the organization. RPA can't solve for everything — no system can. But, it is a powerful tool for enabling better, faster decisions ­­— liberating employees to concentrate on tasks that can't be automated.
This combination of human and machine is needed — today — to build the stronger supply chain of the future. It will provide relief to CPG companies grappling with tough, multifaceted challenges, and enable them to foster a more reliable and predictable relationship with suppliers and retailers.