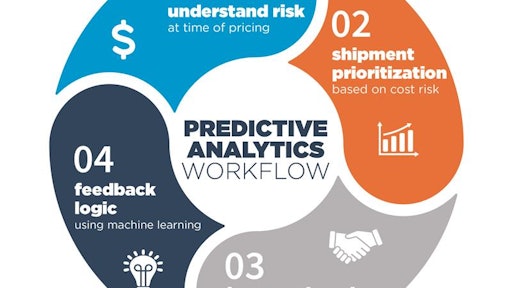 BlueGrace Logistics
The modus operandi for shippers and third-party logistics (3PL) providers relies heavily on capacity or transportation managers to select and prioritize shipments for coverage. Minimizing risk is at the core of all decision making when it comes to moving freight – how do you know if you've made the right call and selected the right carrier? Using the traditional approach, the answer won't become evident until after the deal is done and the freight delivered. Oftentimes, bias plays a hand in which loads get moved due to an individual's idea of what a winning shipment may be without any mathematical or quantitative data behind that decision. A specific shipment may be prioritized for the wrong reasons, even with good intent. This is when business intelligence networks can utilize predictive and prescriptive analytics to modify behaviors, reconcile substantiated data points and impact future freight models.
Evaluation of key variables and data are needed to predict pricing within a chaotic and often, volatile marketplace. Shippers want to know if loads are priced correctly, if they're using the right carriers to service freight, executing on deliverables, and maintaining positive customer experiences end-to-end. The most effective way to ensure you're operating at the highest industry standard involves data mining and establishing algorithms to come up with predictive solutions. This can't be done overnight, of course. Leading 3PLs have aggregated years' worth of internal proprietary market, transaction, interaction, pricing, decision behavior and execution level data not available on external platforms.
Using predictive and prescriptive analytics helps understand internal and external risks for 3PLs and shipper customers. In this case, risk is defined as price vs. cost, on-time performance and load give back. Loads are analyzed for risk by leveraging proprietary pricing data while accounting for shipment and market characteristics. Understanding the range of outcomes helps price, prioritize and execute shipments in the most efficient and cost-effective way. A predictive analytics workflow chart shows fours key entry points:
· Minimizing risk at the time of pricing a shipment
· Shipment prioritization based on risk (service the loads with highest risk first)
· Carrier smart-matching
· Feedback logic using machine learning (looping)
The most effective 3PLs use information gained from business analytics to change behaviors and drive better decision making. Data becomes an integral part of the conversation with customers and carriers alike. Without it, organizations are relying on employees to navigate the five stages of behavior change – pre-contemplation, contemplation, preparation, action and maintenance. An accumulation of historical data can prove certain behaviors lead to specific outcomes and eliminate anchored bias on load platforms, which allows for the opportunity to make better decisions.
Short-term losses can lead to long-term gains. This methodology assists in selecting the right carrier for each load while increasing velocity, efficiency and employee and carrier experience.
Before the use of data technology, shippers and 3PLs would use arbitrary numbers to start negotiations for freight shipments. Now, using proprietary intelligence, organizations can leverage a range of pricing options for optimal cost and time savings for shippers, carriers and employers. This allows for more relevant and productive conversations between parties and puts decision-making power into the hands of those closest to marketplace. As such, they can complete faster transactions, with less effort, and the understanding that the lowest price point doesn't always lead to the biggest benefit. The easiest way to validate success this is through risk assessments that separate compensation structures from freight revenues, allowing for maximum performance based on data not biased agendas.
The highest value is delivered when shippers and 3PLs align on goals, getting the right loads on the right trucks at the right time for the right price. If they can reach alignment, they'll likely develop a long-term relationship. By offering cost variables upfront, shippers are better prepared to pivot in a tight marketplace. However, short-term relationships have their benefits too. 3PLs who use predictive analytics to execute prescriptive strategies are agile and able to cover last-minute loads under numerous bandwidth constraints. With the evolution of business analytics, the ability to make more sound decisions has been accelerated and the guessing game significantly reduced.