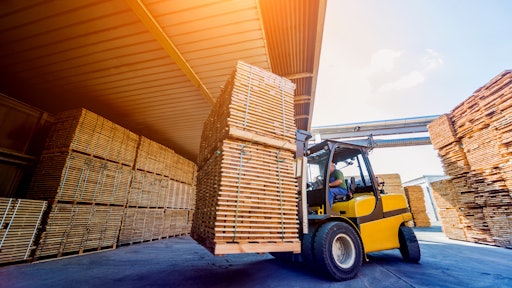 romaset
The global trade industry is having a crisis. The shortage of computer chips, for example, fueled by high demand for home office equipment, is wreaked by logistics and supply chain disruptions due to the pandemic. With previous U.S. government sanctions on Chinese technology companies coupled with chaos on the seas like extreme weather events and even blocked canals, it's no wonder the world is seeing shortages of many essential resources.
One scarce commodity has been lumber. Over the last year, the price of lumber has soared. Lumber has been one of those unsung commodities that's been underinvested for years, and whose supply has been in demand in recent months. The U.S. lumber supply has been limited due to pandemic-related shutdowns and other logistical issues. These disruptions have made lumber's value skyrocket, which is making it a much desired commodity not only here in the United States, but also around the globe.
But, pandemic-related stoppages aren't the only reasons why the supply and demand chain business is having disruptions.
There are other risks that the global trade industry is faced with. These include oceanic and weather conditions, fleet and trucking shortages and limited access for global buyers to access U.S. raw materials. However, technology can be the hero and help wipe out the global trade crisis.
Disruptions delay production
Let's face it, the cost of any disruption to the world's supply chain can be in the millions and even billions. As for the Suez Canal blockage, according to Lloyd's list, "Rough calculations suggest westbound traffic [was] worth around $5.1 billion daily while eastbound traffic [was] worth $4.5 billion."
The blockage of the Suez Canal by a mega cargo ship was a wakeup call to many in the shipping industry. The ship that caused the blockage is one of the world's largest vessels out there. As ship fleets increase in size but decrease in numbers, it means more issues can surface. Not only can weather and climate change play a significant role in disruptions like as with the Suez Canal, but there will be longer wait times for products to ship for these mega carriers. Larger vessels -- many with fewer crews these days -- can take longer to load. And, let's not forget that port strikes can happen at any time as well, and those strikes, which can last days or weeks, can disrupt the cargo supply chain just as much as weather or other factors.
While oceanic logistics have an abundance of risks, another risk worth noting happens to be landside.
The pandemic affected domestic supply chains when it brought the trucking industry to a near standstill as well. When companies and factories shut down due to shelter-in-places, the amount of products shipped significantly decreased. Getting supplies to ports was proving to be challenging, and it became obvious that U.S. reliance on truckers to help move products coast to coast was now at risk.
But, the pandemic slowdown isn't the only risk to the trucking industry. Experts are finding that driver shortage is among one of the top issues for the transport industry as noted on the American Transportation Research Institute's (ATRI) top industry issues list.
And, the American Trucker Association estimates that more than 1 million drivers will be needed in the next 10 years:
In fact, over the next decade, the trucking industry will need to hire roughly 1.1 million new drivers, or an average of nearly 110,000 per year, according to Truck driver shortage analysis 2019. Replacing retiring truck drivers will be by far the largest factor, accounting for over half of new driver hires (54%). The second largest factor will be industry growth, accounting for 25% of new driver hires.
The commodities industry really needs to consider all of these modes of transports, their potential risks for disruption and how technology can play a part in creating a more streamlined and efficient chain.
Coming "out of" America
The global crisis for exports out of the United States is that Americans have a highly sought-after natural resource pool and increasingly limited options for delivering these physical commodities to would-be foreign buyers. In addition to ongoing logistical hurdles -- such as lack of steamship line support -- Americans are heavily competing with other countries shipping the same natural resources with cheaper costs of labor and materials and are given higher levels of subsidy incentives by their governments, making it more competitive for them in global markets. It is getting more expensive to be made in America.
The current systems used in the United States are antiquated -- commodities traders are still using the same tools and techniques they were using 30 years ago.
Technology will help bridge the foreign buyers to domestic suppliers by way of competitive convenience. It has gotten slightly easier to get in front of a U.S. producer with the internet, but there is no centralized marketplace to procure natural resources. Finding the actual direct source can be difficult and the supply channels to the smaller producers in the United States are not typically consistent or reusable, making the entire process untenable for buyers requiring a supply chain that's reliable.
Tech yourself
The importance of technology today can't be understated in a particularly old-school industry. The implementation of technology -- on many levels -- can help streamline supply chains. For example, with the anticipated shortage of trucks in the United States, massive investments in automation and driverless trucks will need to take place. Having access to more reliable trucking fleets with advanced technologies will help move materials across the country -- and ultimately to ports -- in a faster and more managed and reliable way.
Additionally, technology can help bridge foreign buyers with U.S. suppliers. Most of the buyers in other countries have limited access to U.S. suppliers. Though the internet has improved this slightly, up until now, there hasn't been a centralized marketplace to procure natural resources. Foreign buyers can find that it's extremely difficult to connect to an actual source since the actual direct supplier rarely advertises.
As more U.S. producers are looking to get their products into the hands of global buyers, technology will need to be front and center. Whether it's technology helping to navigate the high seas or improving reliance on the trucking industry or even an online marketplace, it's the technology that's needed to drive the future export business for the next generation.