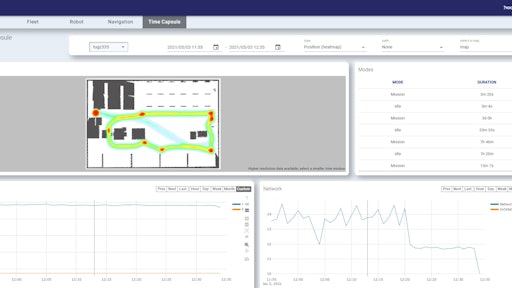 InOrbit
Software provider InOrbit releases a new platform, Time Capsule, tapping data to better optimize robotics and automation fleets. The data gives staff detailed insight into robotic operations and failures to understand why they happened and create a more efficient robotic workforce.
Per InOrbit:
The latest upgrade to the SaaS platform captures critical data needed to understand robot autonomy exceptions, giving users the ability to "turn back time" to understand where the failures occurred and enabling them to improve productivity. Time Capsule, along with additional user interface improvements, is immediately available for new and existing

InOrbit

customers.
No robot is perfect. However, it is often very difficult to understand the circumstances that lead to robot errors, whether it is a failure to perform a task efficiently, choose an appropriate route, or navigate in a difficult space. By capturing the data and presenting it in an integrated dashboard, Time Capsule gives roboticists an easy-to-use, interactive visualization for root cause analysis. This leads to a greater understanding of performance, which is critically important with autonomous robots to drive continuous improvement.