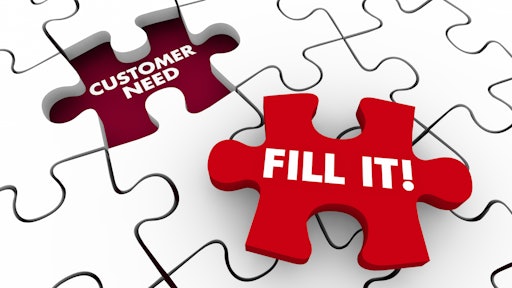 AdobeStock_216758857
As the Coronavirus disease (COVID-19) pandemic continues to hit economies across the world, the focus on automation in e-commerce is becoming sharper. In times like these, with online shopping becoming the norm rather than the exception, distribution centers cannot rely on human manpower alone to satisfy demand.
Warehouse automation technology has come of age. It brings efficiency and speed to the distribution chain, from the moment an order is placed, to the point when the product is sent out for delivery. Here's why fulfilment-as-a-service (FaaS) is a new aspect of warehouse automation and opens up lucrative markets for automation vendors.
Whilst third-party logistics (3PL) providers have offered FaaS for many years, this insight focuses on how automation vendors are tapping into this new market.
Historically, the business model employed by most warehouse automation vendors has been to sell the automation equipment and associated control software on a CapEx basis and generate recurring revenues through maintenance contracts. In some cases, the automation vendor will also sell or license warehouse executive system (WES) and warehouse management software (WMS) packages used to manage the operations within the four walls. In recent years, however, some automation vendors are providing additional fulfillment services such as route planning, assortment management, front-end user interface and in some cases even last-mile delivery.
Interact Analysis identified a spectrum of FaaS offerings from automation vendors that can broadly be grouped into three major buckets:
1. At one end of the FaaS spectrum, there's a CapEx/OpEx hybrid model whereby the retailer purchases the automation equipment on a CapEx basis and then takes out fulfillment services on a recurring fee basis. This can either be a fixed monthly fee or a pay-per-pick model.
2. Next in the spectrum is where the automation equipment and the fulfillment services are both provided on an OpEx basis. There are no CapEx costs associated with this model, but the retailer still owns the warehouse real estate.
3. Finally, at the other extreme of the FaaS spectrum is a service-based model where the automation vendor leases out fulfillment capacity to retailers from a facility owned and operated by the automation vendor. This is similar to the way 3PLs operate multi-client fulfillment centers – the main difference being that the fulfillment center is owned and operated by the automation vendor. It should be noted that the line between an automation vendor and a 3PL can often be blurred.
Micro-fulfillment: Fertile ground for FaaS
The micro-fulfillment sector is growing at a particularly fast rate, making it fertile ground for companies trying to find growth in FaaS. And, while traditional automation vendors are going down the route of selling just the automation equipment on a CapEx basis, many of the new entrants are offering FaaS models to varying degrees.
Online retail is a relatively new phenomenon for many companies in the grocery sector, particularly in the United States, and as a consequence, many grocers have looked to other outfits to provide a full package fulfillment service on their premises.
There are, however, grocers that have a long history in online retail, who have developed their own solutions. To fill the gaps in a fast-growing market, helping to create a seamless order-to-delivery service, there's an increase in collaboration in the value chain.
Fulfillment-as-a-service: The integrated package that eases the way
Online retail is booming. Customer expectations are high in terms of quality of product and speed of delivery. It's difficult for retailers to satisfy the demand if they don't have the premises or the equipment to ensure customer satisfaction. That's why some companies are beginning to offer retailers the opportunity to get close to the customer by renting space in their inner-city automated micro-fulfillment centers.
One model of FaaS can potentially offer the full package to retailers – the end-to-end management of the fulfilment process, on an OpEx basis with no large upfront costs, where the retail space is often shared with a number of competing retailers, automated equipment, management and execution software. Interact Analysis expects general merchandise and apparel retailers to be the main users of this "pure" FaaS offering, as they typically have a smaller retail estate footprint to leverage for in-house MFCs.
The cloud computing of e-commerce
No one FaaS model on the spectrum will win out. Different retailers will opt for different variants of FaaS depending on their needs. Smaller retailers with limited cash resources and limited experience in e-commerce may opt for a full FaaS model whereby the automation vendor owns the real estate asset.
Conversely, cash–rich, tech–savvy retailers will likely bring much of the fulfillment in-house to avoid unnecessary overheads. That said, even the largest and most advanced retailers will always likely benefit from outsourcing additional fulfillment capacity during peak seasons.
In the long run, micro-FaaS may be a lifeline for many smaller retailers looking to rapidly make serious improvements to their e-commerce offerings without having to make massive upfront investments. The FaaS model can offer scalable access to highly advanced e-commerce micro-fulfillment capabilities overnight.
Final thoughts
In general, automation vendors weren't originally built to offer FaaS, and it will be difficult for them to switch. One big downside will be an initial fall in revenues as they move from installing their kit on a CapEx basis to installing it on an OpEx basis.
However, many automation vendors may well still attempt to do so, and may find it a very attractive model for future revenue growth, in part simply because many 3PLs choose not to automate their own warehouses due to the insecurity of the contracts they have from their own customers. For automation vendors entering the FaaS market, micro-fulfillment is an excellent testbed because it is an area that the main 3PLs are currently not really involved in at all.