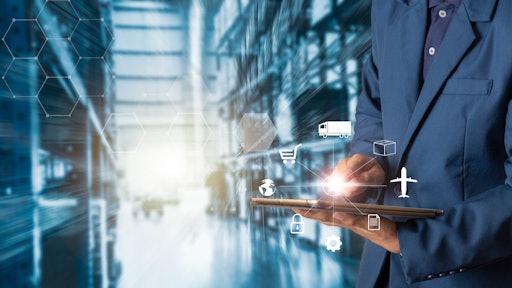 Getty Images
Every business, regardless of industry, needs efficiency and reliability, and the supply chain industry is no exception to this model. Now, more than ever, the supply chain is under growing pressure to continue operating uninterrupted, while adjusting processes to align with the crisis we're facing globally. As this industry shifts in response to changing business and consumer needs, concerns over potential challenges threatening the supply chain – from initial production to final distribution – are at an all-time high.
In these times of heightened risk and disruption, software should be one of the main resources that organizations rely on to maintain, improve and realign production-to-market strategies. While suppliers tend to prioritize hardware over software in this industry to deliver chips, casing and cables (among other things), software equips these businesses with the ingenuity and innovation their programmers need for accurate visibility into the system to reprogram operations. Software has a key role to play in managing supply chain risk and disruption. Let's explore the benefits software provides the supply chain during times of risk compared with hardware, including unlocking innovation, eliminating downtime and implementing quick changes that have a positive impact on the bottom line.
Unlock innovation with the flexibility and adaptability of software
When you look at supply chains, you'll find that there is a real interconnectedness between the hardware and software, both of which are unable to operate properly without the other. This tends to be overlooked, with the focus being put solely on the hardware, but it's extremely valuable. In a distribution center, you'll see things like linear conveyers and vehicles moving products from one place to another – this is all controlled by software. Software-controlled machinery offer a number of benefits including flexibility and adaptability.
The flexibility and adaptability of software today is proving itself globally. Right now, there's not a large demand for products being shipped to storefronts, but instead, online sales may be doubling. With software serving as the interconnective tissue of the supply chain, it's capable of reprogramming machinery to meet these new demands without changing out the hardware already in place. When the data center and distribution center work together, it opens the doors to innovative changes that supply chains may not have known to be possible.
Eliminate the downstream effects of machine downtime
When the supply chain experiences downtime, it can lead to a significant drain on resources, which causes a downstream effect that increases risk. If production is stalled, slowed down, or completely stopped, revenue will also decrease, putting your organization in jeopardy of costly chargebacks or loss of future business. A Gartner study notes that an hour of downtime can cost organizations on average $67,651 in lost revenue and productivity. With the right software in place, organizations can significantly reduce the effects of machine downtime, ultimately saving them time and money. Operators and managers, for example, can track where problems are occurring in production and implement changes to the system to fix those problems before the ripple effect of downtime issues begins.
The efficiency software provides is especially true in today's climate. With higher demand for equipment and goods such as personal protective equipment (PPE) and ventilators, supply chain managers, operators and disruptors need to prioritize while also working quickly. In a warehouse where there is no such thing as a queue and operations are moving rapidly, software allows organizations to make the correct adjustments and prioritize what needs to get done without introducing downtime risk. It also plays a role in establishing that priority is given to first responders and healthcare providers who need these supplies quickly. Software has the capability of keeping operations in motion even when there is limited access, reduced staff and a growing need for supplies.
Implement facility changes quickly with decreased risk
The supply chain industry is a digitally transformed industry, however although it has been quick to adapt, there are still challenges to overcome. In truth, it can be extremely difficult to test new functionalities prior to production. Organizations have limited time to use facilities, and there usually isn't time baked into the schedule for testing new capabilities or features. Because of this, many run the risk of things going wrong, such as losing valuable data, when trying out something new. To protect supply chain data, which serves as the fundamental core of a business, it's important to confirm that changes will work before production begins and that all important data is protected and backed up. This is where software comes in.
Regardless of where data is being stored – on-premises or in the cloud – it must be protected and easily accessible. To do this effectively, organizations should look to implement a cloud data management strategy. This strategy serves as a central component of ensuring data is always available in the modern intelligent business. With this practice in place, organizations can more easily manage and store their data while also benefiting from visibility, automation and governance across the cloud. As a result, teams can manage their supply chain data more efficiently and perform the real-time analysis they need to achieve operational success. Having the confidence to implement changes successfully, the mechanism to test significant changes to the operation before production and knowing how they are going to work in your warehouse management system removes risk when shifting to meet new needs.
Fill information gaps and set expectations
Apart from ensuring that operations are working efficiently and reliably within the supply chain, it's crucial to have clear visibility into all parts of the process. A supply chain executive will want to know what products are in his or her facility, which are in route, and which have already arrived. This gives them a forecasted revenue and helps inform other procurement decisions. Today, many software products include real-time analysis, dashboard and monitoring capabilities that make it possible for executives to track every step, ensuring that operations are completed on time and within budget.
Additionally, software helps to set expectations with customers receiving goods. With real-time tracking, shipment updates, and estimated arrival dates, the timeline is established before any transactions take place. With this, organizations never have to run the risk of losing customers due to an information gap that has left buyers in the dark. Even in times when shipping demand is high and delays are anticipated, giving customers transparency on a shipment timeframe is extremely important for overall customer satisfaction. For both parties, software underscores the need for visibility to remain successful.
When dealing with rapid changes to the supply chain, organizations shouldn't feel the added pressure of risk and disruption slowing operations down. Hardware plays an important role in the physical development and production of goods, but software's role should not be overlooked. By tapping into software capabilities, the supply chain can be agile enough to respond to current trends, peaks and fast-moving deviations to find potential holes in their systems and then fix and adapt to any challenges. Everything from the start to finish in the supply chain is data-driven and software defined, and to a point, hardware proves itself to be less consequential in the end. The transformative aspect of the supply chain industry is set by software revolutionizing the space, and those who adapt to software-centric approaches to the supply chain will see gains in their overall businesses.