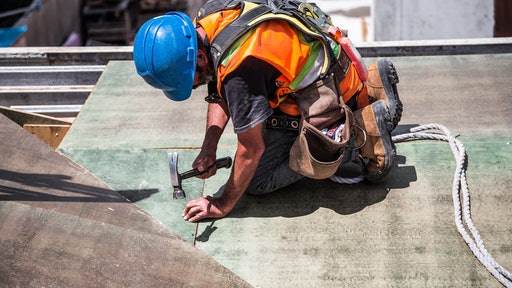 Pexels
Transformative technologies are innovations that influence how we interact with other businesses, shape the way we do business, guide access to information and conduct communications with each other.
Basically, transformative technologies change the world.
The construction industry has traditionally lagged behind others in the adoption of digital capabilities. In fact, of the Top 22 industries, construction is ranked No. 21 in digitalization. This is a significant factor as to why jobsite productivity has remained stuck over the past two decades.
Faced with complex global supply chains, unpredictable political and economic policies, changing weather patterns and intractable labor shortages, heavy building materials (HBM) contractors, operators, owners and providers are increasingly seeing the value of incorporating technology to improve performance and productivity. This is an opportunity unlike any other application or technical gadget. It is an opportunity to make a real lasting difference in the world.
To change the industry, transformative solutions need to be applied to automate processes, boost productivity, save on carbon emissions, track assets and improve collaboration and communication. By digitizing and automating their processes across an integrated platform, data-driven HBM operations can save time and money, improve safety and compliance, reduce mistakes and downtime and boost their competitive position.
Just a 2-3% percent productivity increase can translate into multi-billion dollar savings within an $11 trillion global construction industry, according to Ed Rusch, vice president, global marketing. This can bring new schools, roads, bridges, hospitals and libraries to fruition.
Digital platform for data sharing
Imagine a world where real-time order confirmations, inventories, schedules, material origins, material properties, properties in transit, proof-of-delivery, quality assurance, invoices and payments all come together to form an end-to-end digital story. Data sharing is highly valuable when there are multiple entities on a supply chain (like in the construction world). Many companies across many different industries are shifting from a traditional linear value chain to the more open and participative infrastructure of a supply chain platform.
To move construction firms into the 21st Century, these businesses need to digitally transform their supply chains. Starting with a digital platform, organizations can easily link to their trading partners, including contractors, suppliers, producers and haulers, to conduct business with each other and automate processes. Transactions are executed and information collected to deliver insights with a speed and accuracy that fuels success on the heavy jobsite. The platform allows companies to simplify data and analytics across their trading partners, and streamline operations for greater efficiency and productivity, which helps to deliver value to customers.
A supply chain platform like this uses technology to connect trading partners more precisely, speedily and easily than ever before. This model allows disparate systems to talk to one another. Each constituent has access to the exact same information, enabling greater traceability of products across multiple partners, locations and facilities.
Data can be gathered from Internet of Things (IoT) devices, telematics equipment, electronic logging devices (ELDs) and more, allowing managers to run analytics from the data to better understand a business' performance. Product traceability is important in handling operational issues quickly and effectively. For example, the materials that people in the construction sector make, haul or buy are almost always on the critical path for the end customer. It's important to react quickly to bottlenecks that might throw a wrench in operations and jobs off schedule.
That said, many of the companies in the construction industry are increasingly investing in software that allows them to track and trace these materials from the moment an order is made all the way until the material reaches the jobsite – even after, during the payment process. Seeing more and knowing more as materials and data flow helps to ensure jobs are completed on time and in budget.
E-ticketing and e-construction
E-ticketing is one application within an e-construction suite of solutions that digitally solves problems for contractors, construction firms and others in the heavy work ecosystem. An e-ticketing solution eliminates the need for paper tickets to be used with material deliveries, scale entries and truck movements. Instead of handing a paper ticket over to employees at the jobsite gate or an admin in the back office, the information on the ticket is now digitized and sent electronically.
This is especially useful in today's world when state and federal agencies are trying to enforce social distancing due to the Coronavirus disease (COVID-19). E-ticketing eliminates paper handling and limits person-to-person interactions. E-ticketing solutions use digital, real-time exchange of material delivery ticket data in the cloud between heavy material suppliers and buyers. Information keeps flowing on the jobsite and people are protected by keeping limited interaction.
Electronic proof of delivery (ePOD) is another application of e-construction that is changing the way the construction industry operates. ePOD solutions eliminate the need to handle paper, prompting users with simple instructions, such as "sign here." Mobile workers find that ePOD solutions make daily tasks easier and remove the frustration of delivery paperwork. This ease of use means drivers are less likely to make errors on forms, reduces the need to call headquarters or the dispatch office with a question and can lead to the completion of more deliveries per day. With electronic proof of a signature, drivers can prove a delivery was made at the right time at the right place.
More and more transformative technologies are becoming available for the heavy work industry. It all starts with a robust, cloud-based, digital platform and builds from there to bring more profits to the bottom line.