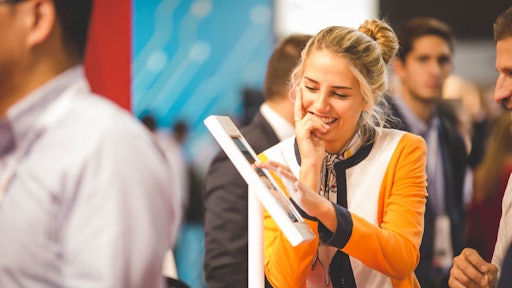 IoT Solutions World Congress
IoT Solutions World Congress (IoTSWC) is the largest IoT event in the world, with over 400 exhibitors and 400 top-level speakers. Much like the IoT industry, the show has grown considerably since its inception in 2015 to become an annual cornerstone for the IoT industry and the many industries that surround it. Supply & Demand Chain Executive had the chance to speak with Roger Bou, the Director of IoT Solutions World Congress, an event organized by Fira de Barcelona, to discuss how the show has evolved, and what highlights we can expect this year.
SDCE: How has the IoT Solutions World Congress evolved over the years?
Bou: IoTSWC has actually changed quite a bit since the first conference was held in 2015. At that time, the event was heavily focused on the ecosystem of IoT and the conversations taking place were more about the technology and its development. Today's IoTSWC is more focused on real world conversations about how a variety of industries are utilizing IoT. IoTSWC doesn't simply focus on the technology, but how we can use it to further enrich the way business and the world operates.
That's why our testbeds have become such a focal point of the show. Testbeds are experimentation platforms developed and tested in an environment that resembles real world conditions. This gives our attendees a unique opportunity to see how technology will operate in a real working environment.
Every year we select 10 testbeds that cover a wide variety of the vertical industries represented at the show. A few standouts this year include real time telemetry analytics for adaptive connected car applications; how drones, sensors, and blockchain are working together to help monitor water quality control in the Volga river; and ways AI-IoT and 5G can improve quality of life for the elderly.
SDCE: What are some of the highlights that you are most looking forward to at this year's conference, and why?
Bou: What excites me most about this year's conference is that we succeeded in putting real world solutions at the forefront. We've expanded the exhibitor space, allowing us to put a larger focus on our testbeds and offer more use cases than ever before. We have a number of exciting deep-dive technology workshops centered around the challenges IoT experts currently face, such as keeping human intelligence at the center of IoT deployment. We continue to have industry leaders at the forefront of IoT technology come and share their expertise. For example, Jonathan Neale, Chief Operating Officer of McLaren Technology Group, will be hosting a discussion in our connected transport session.
Our women and diversity sessions are back and have expanded to include additional panels and speakers. This topic was a huge success last year, so we're excited to expand the session to include more panels discussing the importance of diversifying representation not just in IoT, but in the IT industry as a whole. Our conference is also proud to welcome nearly double the number of speakers we had last year, including industry leaders such as Nicole Bulgarino, Executive Vice President at Ameresco; Jaishree Subramania, Senior Director of Product Marketing at IoT Azure Mircosoft; and Helena Lisachuk, Global IoT Lead at Deloitte Consulting.
We have a session in AI track that will last a full 24 hours—it's basically become a whole conference onto itself. Hugo Boss is hosting a talk about "tailoring the factories of the future." In this session, leading IT executives will discuss how they're accelerating the shipment process, locating products and shipments on the shop floor and what IoT products they're using to enable those advancements. Google is also hosting a talk on ethics and social responsibility in deploying AI. With the rise of automation, we can all see the advantages, but it's incredibly important we usher this technology into our industries in a responsible way.
SDCE: IoTSWC has showcased many future IoT trends and use cases over the years. Which one surprised you most in terms of rapid adoption?
Bou: I've been impressed with how quickly manufacturing has adopted IoT technology. Industry 4.0 adoption has been rampant and widespread, stretching from the production floor to the supply chain. Machines armed with sensors are providing real time data to manufacturers, allowing them to spot issues with machinery before costly breakdowns occur. Similar sensor data is being utilized on the supply chain side, helping to provide a more accurate depiction of inventory, resulting in increased productivity and better fill rates.
SDCE: Where do you believe IoT will be as an industry in the next 3-5 years?
Bou: It's all about verticalization. Just as we were talking about with the manufacturing industry, IoT will increasingly move towards the industries that the technology impacts. Yes, IoT technology is evolving, becoming more streamlined, and 5G is really helping to turn theory into practice, but the next phase will be all about the use case. The future of IoT will lie in where we can find the most value for it, the self-driving car, tying up logistics in the supply chain, or how the digital twin is revamping the product lifecycle.
Roger Bou is the Director of IoT Solutions World Congress. IoTSWC is the largest IoT global conference and will take place on October 29-31 in Barcelona, Spain. For more information, visit www.IoTSWorldCongress.com