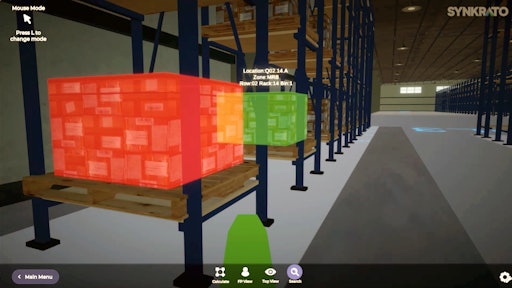 Synkrato
Synkrato paired its warehouse digital twins with artificial intelligence, allowing users to connect a warehouse digital twin to the slotting engine and perform slotting and re-slotting using digital twins.
"We believe the key to supply chain resilience and innovation is to simplify transformative technologies. Companies are looking for solutions that streamline operations without requiring a high level of IT skills," says Amin Sikander, Synkrato president. "Managing slotting algorithms in a spreadsheet is a labor-intensive, error-prone process, especially with a lot of inventory coming in and going out. By connecting Synkrato digital twin to the adaptive slotting algorithm, businesses gain real-time warehouse efficiency through a user-friendly interface."
From PR Newswire:
The pairing of digital twins and AI-driven logistics introduces new capabilities for warehouse optimization using an AI-based algorithm.
After users create a digital twin, the latest version of

Synkrato

automatically provides recommendations on where to find, store and relocate inventory within a warehouse.

Synkrato's

dynamic digital twin sends data to slotting, like inventory location, distances, sales history, personnel and stock levels, in real time. The slotting algorithm then uses this data to provide ongoing slot recommendations for all incoming and outgoing orders in real time. This integration simplifies slotting and supports an agile strategy by removing bottlenecks, recommending optimal pick paths and streamlining putaway.
"Imagine a warehouse with a single staging area and three inventory storage zones. The price to move inventory to the staging area is proportional to the distance, so the closest distance has the lowest movement cost. Synkrato provides recommendations on where to store products based on sales history, forecast and staging distance to reduce costs and order-preparation time, all from the digital twin interface," says Jason Mancuso, Synkrato product director.