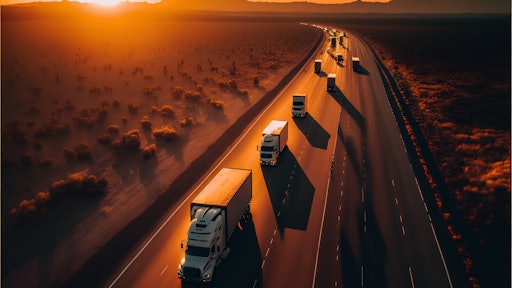 justinas/adobe.stock.com
Some of the world's most sophisticated vehicle makers and technologists are investing heavily in autonomous trucking. There's truck builders such as Daimler Truck Group and Volvo Trucks and autonomous driving technology companies like Waymo and Aurora. Meanwhile, states like California are working to prohibit fully autonomous trucks, Waymo and TuSimple are laying off employees and TuSimple is scaling back freight expansion.
While it's safe to say that signals are mixed, the industry has made considerable progress on commercial vehicle autonomy over the last several years. Currently, level 1 and level 2 autonomy – such as cruise control, steering and acceleration/deceleration – are commercially available. Level 3 and level 4 automation – where the vehicle is operating fully on its own in most or all scenarios – are being prototyped and tested. Level 5 automation is the only level where the driver is not there to assist. The computer is expected to perform equal or better to a human driver in all scenarios and conditions.
Autonomous trucking has the potential to deliver considerable safety improvements, but trucking is a more complex autonomy problem than passenger transport for 2 simple reasons — mass and velocity. Tens of thousands of pounds traveling at highway speeds mean the consequence of failure is catastrophic.
Road safety is worsening – but it shouldn't be.
U.S. traffic deaths reached a 20-year high at the beginning of 2022, jumping about 7% in the first three months of the year. The National Highway Traffic Safety Administration (NHTSA) saw a sharp uptick since the start of the COVID-19 pandemic with fatalities increasing over 10% in 2021. 2021 marked the worst year of U.S. road fatalities in a single-year since 2005.
Yet, the Federal Motor Carrier Safety Administration (FMCSA) estimates that over 60,000 crashes could be avoided if video systems, including driver-facing dashcams, were widely adopted. Many vehicles on the road today have driver assistance technologies such as AI Dashcams with driver-coaching which have been proven to save lives and keep our roads safe. The continuing advancement of driver assistance technologies such as side and rear-facing cameras deliver important safety benefits to both commercial drivers and passengers.
The industry can't keep up with demand – posing existential safety risks.
An important issue plaguing the trucking industry is driver capacity and retention. Demand for the movement of goods continues to rise but there's a shortfall of nearly 80,000 drivers. The industry may need as many as 1.2 million new drivers to keep up with demand over the next 10 years.
Drivers are leaving the industry in droves due to the demands of the job, subpar working conditions and lackluster pay. Even with massive improvements in automation and compliance tasks that used to bog drivers down, most drivers still aren't getting paid for many of their hours worked. Old pay practices pay drivers for miles driven versus time worked so they're losing money by sitting in traffic or at a warehouse.
This pay model pushes drivers to speed and stay on the road when they know they need to rest. The U.S. Department of Transportation (DOT) rolled out a mandate that all commercial drivers use an electronic logging device (ELD) to track hours-of-service and increase road safety.
We can't wait for autonomous trucks to fix road safety – we need to act now.
Even when autonomous trucking technology is ready for broad deployment, interstate regulation in trucking is shockingly slow. The federal ELD mandate is a prime example of this. It took 46 years to roll it out and is still in its infancy. To move the needle on full automation, congress will have to lift restrictions on self-driving truck testing that are currently limited to a dozen states. This means putting people's lives and jobs at risk – a risk many states, like California, are unwilling to take. And political opposition in autonomous trucking will only continue to grow.
The role of AI and automation is not to displace truck drivers – it's to make their jobs safer, more efficient, and more lucrative. A truck driver does more than just drive – they're responsible for the cargo, they inspect the vehicle to make sure it's safe, they communicate with dispatchers, they handle exceptions and anomalies, they coordinate pickup and drop off with people at the dock and they interface with customers. The driver plays a central role in the movement of goods and the working of our global supply chain.
Level 3 and 4 autonomy and the use of AI will increase driver capacity and retention in the industry to keep up with demand in the long-run. It has the ability to handle many of the driving responsibilities on highways in order for drivers to rest and stay compliant with their hours-of-service. It can reduce stress and unsafe driving behavior from an incredibly challenging and demanding job. And it can create new career paths and expand jobs into more lucrative roles. Autonomy in commercial trucking will come in some form or fashion but until then, we have a lot of work to do to make roads safer for everyone.