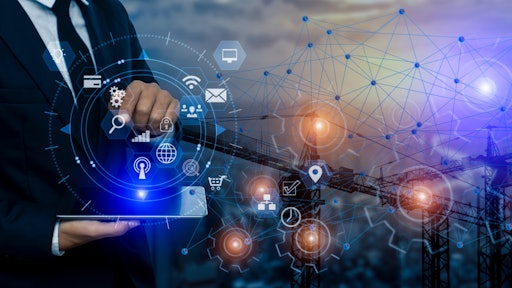 Somkid/adobe.stock.com
AI has taken the world by storm. Dominating headlines and dinner table conversations, AI is sparking both intrigue and outrage across the globe. The once obscure futuristic technology has found its way into everyone's hands and people are creating everything from books to award-winning art.
Of course, AI is not new. The excitement around AI in recent months stems from new use cases and easy access. Until recently, most people knew that AI and other emerging technologies like machine learning (ML) and Power BI were making headway in the technology sector, but now it's readily accessible to all including the transportation and logistics industry.
Logistics and technology: A winning combination
According to recent research by Gartner, through 2024 about 50% of supply chain organizations will invest in applications that support artificial intelligence and advanced analytics capabilities.
Whether it's transportation management systems (TMS) with embedded AI and ML capabilities, or Power BI tools with advanced analytics leading logistics providers are tapping into next-generation supply chain and logistics technology to unlock new savings, efficiencies and end-to-end visibility.
Early adopters of advanced transportation technology are setting themselves apart from their peers. Many early adopters are large enterprises with significant budgets or third-party logistics (3PL) providers.
The latter creates an opportunity for shippers of all sizes. To reap the benefits of next-generation logistics technology solutions without needing in-house talent, companies can and should outsource their logistics needs to 3PLs partners with expertise in these technologies.
The prerequisites to leveraging advanced technology
Whether a shipper adopts advanced transportation technology in-house or partners with a 3PL provider that offers logistics technology services, two things are needed: a solid data foundation and the logistics know-how to turn data into action.
Data is the fuel that powers emerging technologies, from next-generation AI-powered TMS platforms to Power BI tools for analytics. Without data, these tools are dead on arrival. At a minimum, a company should collect shipment-level data, including basic elements such as origin, destination, weight, and equipment type.
While data fuels emerging technologies people steer them. No amount of analytics or visibility will help a company that doesn't have the human to understand how to interpret the data and apply it to logistics.
3PL experts turn data points into a cohesive story that explains the current state of affairs, and from this story they find areas for improvement. Shippers can only maximize the value of these emerging technologies by combining human and artificial intelligence.
How logistics technology creates a competitive advantage
1. Lower costs
For years, the status quo in logistics has been to shop around a handful of carriers, find a suitable option and ship with them until something drastic happens.
While this may be good for carriers, it's bad for shippers. The result is that shippers fail to access a broader market of options many of which may be cheaper simply because it's inconvenient to continue shopping.
Today's TMSs provide access to carrier rate shopping, allowing shippers to select the best price and route for each shipment. In a tight economy, the cost reductions that advanced technologies make possible can be the difference between breaking even and making a profit. A tech-savvy 3PL partner will manage costs through data and technology.
2. Greater visibility
"Real-time visibility" has been a bit of a buzzword in the transportation and logistics industry for a few years. Now it's a reality and as consumers get a taste of tracking their shipments, B2B customers also expect to know where their shipments are at any moment.
Without advanced technology, this isn't possible. For many shippers, the best they can do is say, "it's on the way," and customers are increasingly responding, "that's not good enough."
In a 2022 survey, Inbound Logistics found 94% of respondents cited visibility as a critical issue for customers. This concern was matched only by cost reduction. By adopting advanced technology or partnering with a 3PL provider with technology expertise, shippers can solve the two most critical customer concerns.
3. Enhanced agility
Continued supply chain disruptions pose major threats to any shipper. Last year there were strikes at major ports, natural disasters upended regional transportation, the pandemic continued to affect international trade, supply chain bottlenecks slowed the flow of critical goods and the industry narrowly missed what would have been a historic rail strike. There's no indication 2023 will be any easier.
Any of these events for shippers still tracking shipments manually are enough to make a significant dent in their bottom line as shipments go missing, fail to meet deadlines, and customers look for other providers. However, with advanced technology providing real-time visibility, shippers can quickly pivot when disruptions arise.
Shippers can also find more flexible shipping options. By turning truckload shipments into LTL shipments and vice versa, shippers can make the most of consolidation and multi-modal capabilities to increase flexibility and save money.
Finally, with Power BI tools, shippers can tap into advanced analytics and machine learning to fuel continuous improvement by getting a clear picture of current operations. In a time when uncertainty and volatility are the only certainties, adapting quickly to changing conditions will separate the top shippers from the pack.
Seizing these competitive differentiators
As technology in logistics continues at a breakneck pace of innovation, the early adopters will benefit exponentially. There are still opportunities to seize the competitive differentiators that advanced technology brings before the rest of the industry. Best of all, shippers don't need to go out on a limb to pilot these tools themselves. They can partner with a premier logistics provider that is tech-savvy and has taken on the risk and learning curve for them to provide the benefits without the costs.