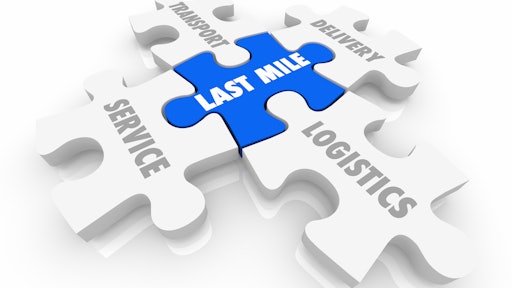 iQoncept - stock.adobe.com
Reducing cost and boosting the consumer experience key to last-mile delivery success, according to a FarEye report.
"Unlike retail, last-mile delivery is the backbone of logistics providers' operations and their goals will be focused on delivery performance and cost efficiencies, above all. While their priority improvement metrics don't differ heavily from retailers' priority improvement areas, the difference lies in the size of the logistics provider. With size comes complexity, but also efficiency, where the cost per delivery goes down, but the difficulty in managing and tracking orders goes up," says Stephane Gagne, VP, product, FarEye.
Marina Mayer, editor-in-chief of Food Logistics and Supply & Demand Chain Executive, sat down with Judd Marcello, chief marketing officer at FarEye, to discuss last-mile logistics in more detail. Check out the conversation here: https://www.youtube.com/watch?v=ZMjjY_V67Bk
From BusinessWire:
Conducted with Researchscape International,

FarEye's

research findings reveals that for providers over $100 million in revenue, on-time delivery (74%) and cost per delivery (62%) are their Top 2 priority KPIs to improve. For providers under $100 million in revenue, their Top 2 priorities are cost of delivery (73%) and customer satisfaction (64%).
Outsourced delivery networks have become a way for retailers to increase speed to deliver (64%) and reduce cost (37%) of last-mile delivery, however, it comes with the sacrifice of less control of the consumer experience.
84% of retailers that have outsourced their delivery networks want more control of their delivery networks. Specifically, 33% of retailers are challenged by logistics providers' inability to provide reliable information and they rank carrier performance as the top factor that inhibits delivery speed.
Over the next year, 77% of logistics providers expect their budgets for last-mile delivery technology to grow, while 82% of logistics providers claim they will likely change or buy a new last-mile delivery solution in the next 1-2 years. Forty percent of logistics providers expect to buy a last-mile delivery platform in the next five years vs. building their own in-house (40%).
Similar to retailers, logistics providers are also evaluating electric vehicles (80%), autonomous vehicles (44%) and drones (38%) to make their fleets more sustainable and efficient over the next five years.