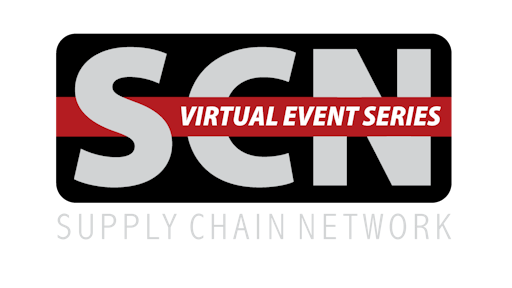 Supply & Demand Chain Executive introduces the Supply Chain Network Summit, a premier virtual event educating logistics professionals on critical issues impacting the supply chain industry.
The Supply Chain Network Summit consists of six targeted webinar tracks taking place June through December.
Each session consists of 4 tracks detailing the topic with more in-depth insight from industry leading experts.
Here's a rundown of the different topics, dates and speakers. CLICK HERE to check out our speaker bios page.
Registration includes all four sessions.
Supply Chain Threats -- Tuesday, June 30
From widespread pandemics to Mother Nature to everything in between, here's how companies can protect their supply chains from the unknown—and the unpredictable.
10 a.m. CST
Track 1: Online Grocery Amid COVID-19
With an increase in online ordering and expansion of categories, how do supply chains evolve to meet the new needs? Deborah Weinswig, founder and CEO of Coresight Research, and JoAnn Martin, senior vice president of retail at Blue Yonder, look at current vulnerabilities in the supply chain and how online grocery can evolve to the new consumer demand.
Noon CST
Track 2: The Visible, Connected and Optimally Utilized Warehouse
Modern warehouse operations are evolving rapidly to keep pace. Disparate systems, labor shortages, blind spots in inventory and management of returns are common challenges. Mark Wheeler, director of supply chain solutions at Zebra Technologies, addresses these challenges and those prompted by the COVID-19 pandemic to share insights on how "systems of reality" can help prepare and protect supply chain operations from the unknown.
2 p.m. CST
Track 3: The Importance of Supply Chain Resiliency
Neil Coole, director, food and retail supply chain director at BSI Americas, discusses supply chain resiliency, including examples of best practice from business continuity and the pre-requisites of organizational resilience to ensure that organizations throughout the supply chain can anticipate future impacts, prepare for disruptions and remain agile and responsive to future challenges.
4 p.m. CST
Track 4: Returning to Work? Here's How to Prep Your Facilities Post-Pandemic
Bhrugu Pange, managing director, and Sean Maharaj, managing director of AArete, discuss the tactical and digital requirements, safety measures, protocols, operational shifts, worker preparedness, attitudinal shifts and preparation of the physical spaces needed to help ensure worker safety in the workplace after a return from lockdown, focusing specifically on distribution warehouses, shipping centers and manufacturing plants.
Navigating Business Amid the Coronavirus -- Tuesday, July 28
What happens when the pandemic dies down, and the world goes back to normal? But, it's a New Normal, with new ways of doing business and enhanced ways of connecting with customers. Find out what the supply chain and logistics industry looks like following a global pandemic, and how the recovery process works.
10 a.m. CST
Track 1: Crisis Management—How to Recover from a Global Pandemic
Edward Segal, an expert on crisis communications and author of "Crisis Ahead: 101 Ways to Bounce Back From Disasters, Scandals and Other Emergencies," discusses ways companies can bounce back and recover from pandemics, natural disasters and other emergencies.
Noon CST
Track 2: Preparing Companies for Extreme Economic Volatility—A Procurement Perspective
The Coronavirus pandemic is wreaking havoc in global supply chains, economies and the stock market. Chris Sawchuk, principal and global procurement advisory practice leader for The Hackett Group, shares why it's imperative that CPOs take steps to help insulate their companies from the effects of instability.
2 p.m. CST
Track 3: The Future of U.S.-Mexico Trade Relations
Tony Payan, the Françoise and Edward Djerejian Fellow for Mexico Studies at the Baker Institute, and David Gantz, the Will Clayton Fellow in Trade and International Economics and Professor of Law Emeritus at the University of Arizona, discuss the impact of the Coronavirus pandemic on U.S.-Mexico trade relations and the future of the North American supply chain. Payan and Gantz also examine the business and policy environments in Mexico, and how they will affect the trading relationship, as well as supply chains within Mexico and issues at the border.
4 p.m. CST
Track 4: Why Sustainability Matters Following a Pandemic
Abe Eshkenazi, CEO of The Association for Supply Chain Management, and Dan Kreeger, CEO of the Climate Change Officers Association, discuss the importance of implementing sustainability initiatives and what companies should be doing sustainability-wise in their recovery efforts.
State of the Supply Chain Industry -- Tuesday, Aug. 25
When COVID-19 hit, most of the nation shut down. Except for supply chains. Find out the state of the supply chain industry in the aftermath, and how this pandemic has re-shaped the future of supply chains.
10 a.m. CST
Track 1: Security of Food Supply
Corey Chafin, principal, food and beverage for Kearney, discusses the end-to-end supply chain value diagnostic for sourcing and procurement of foods and what this means for the future of food post-pandemic.
Noon CST
Track 2: The Power of Value Creation in Sustainable Supply Chain
Sheri Hinish, The Supply Chain Queen, discusses the importance of value creation in sustainable supply chains, including an inflection point of disruption in global supply chains, the need for transparency, the paradigm shift of price vs. value, how to position supply chains as a conduit for change, providing a roadmap for sustainable supply chains using sustainable development and more.
2 p.m. CST
Track 3: The Future of Retail
The Coronavirus has thoroughly disrupted the global supply chain from start to finish, forcing retailers to reevaluate their supply chains to ensure resiliency for the future. Jon Gold, vice president for supply chain and customs policy for the National Retail Federation, talks about how retailers have been impacted, how they have responded and what their plans are for the future.
4 p.m. CST
Track 4: E-Commerce Isn't the Only Answer
While the pandemic fueled explosive growth in e-commerce and last-mile delivery as alternatives to shuttered brick-and-mortar stores, the next big disruption may require entirely different solutions. So, how do you position your supply chain to pivot among multiple sales channels successfully? Steve Sensing, president of global supply chain solutions for Ryder System, Inc., will focus on building a nimble and diversified supply chain and the vital role that technology plays in enabling resilience.
In-Store vs. Online—How Automation & Robotics are Changing the Way Consumers Shop -- Tuesday, Sept. 29
Discover how consumer trends continue to transform the grocery retail landscape from brick-and-mortar to e-retailers and back again. Learn how the "New Normal" proved that in-store and online customers can be one and the same. And, check out how automation and robotics helped retailers keep product moving to consumers, from all channels.
10 a.m. CST
Track 1: Evolution of Retail
Vish Putcha, senior manager strategy of supply chain for Walmart, discusses overall trends impacting the evolution of brick-and-mortar retail.
Noon CST
Track 2: How Automation Achieves Contact-Free Shopping in B2C & B2B Channels
Bruce Williams, CEO of Haultail, discusses the need for adaptive technology to achieve contact-free shopping as well as the unique challenges in automation for B2C vs. B2B channels.
2 p.m. CST
Track 3: B2E is the New Supply Chain
Steve Denton, CEO of Ware2Go, a UPS company, discusses key differentiators of the B2E model, associated growth measures, concrete steps to adopting the B2E model and building a dynamic supply chain.
4 p.m. CST
Track 4: Emerging From COVID-19: Why Better Data Sharing between CPGs and Retailers is Critical
Inna Kuznetsova, interim CEO of 1010data, reviews the COVID-19-related stock-outs witnessed as a result of sudden, unprecedented lurches in consumer demand, and discusses the critical role data sharing between CPGs and retailers will play in predicting demand, understanding inventory levels at a store level and the role these play in adjusting supply chains on the fly.
How to Hire, Train & Speak to Today's Youth -- Tuesday, Oct. 27
In this workforce development session, find out from local professors, teachers and mentors on how to hire, train and speak to today's youth. Find out how to "sell" the supply chain and industry, and what it takes to keep your younger employees engaged.
10 a.m. CST
Track 1: Future Skills Needed in Procurement/Supply Chain
Marisa Brown, senior principal research lead for supply chain management for APQC, will identify the skills future procurement professionals need by category and provide guidance for how organizations can close the gaps.
Noon CST
Track 2: How to Implement Remote Learning in the Supply Chain
Dr. Ian Stewart, executive director of learning Kaplan Performance Academy, discusses the ins and outs of remote learning as it pertains to the supply chain and logistics industry.
2 p.m. CST
Track 3: How to Hire, Train & Retain Young Demand Planning Professionals
Jonathon Karelse, CEO of NorthFind Management, will share the key skills needed to identify and train new talent in demand planning.

4 p.m. CST
Track 4: How to Win the Next Generation of Supply Chain Talent
The demand for supply chain talent reached unprecedented heights during the COVID-19 outbreak, but the industry had already been facing a talent shortage. Tom Leeper, Director of Client Services for Sevenstep, will discuss talent acquisition in supply chain and how to win the next generation of this vital workforce.
Cannabis Over State Lines -- Tuesday, Dec. 1
Cannabis isn't legal in every state, so how do 3PLs and others in the transportation industry deal with state lines vs. state-by-state regulations? This roundtable discussion offers insight into how to get cannabis and cannabis-infused products from coast to coast.
10 a.m. CST
Track 1: How Technology is Critical to Cannabis Supply Chain & Distribution
Art Smuck, COO of HERBL, partnered with JDA/Blue Yonder to bring next-level supply chain sophistication to cannabis industry. Can discuss how technology is critical to the cannabis supply chain and distribution.
Noon CST
Track 2: Interstate Commerce of Cannabis
Joyce Cenali, partner and COO of Big Rock Partners, and Adam Smith, founder and director of Alliance for Sensible Markets, discuss how to educate and lobby for cross-border and interstate commerce of cannabis, including the rationale, the pros and cons, the consequences from all sides and more.
2 p.m. CST
Track 3: How Inventory Management Technology Handles Different State Regulations
Celia Carter, CEO of Roshi, discusses inventory management technology for the cannabis and hemp industries and how it works when dealing with states of different regulations.