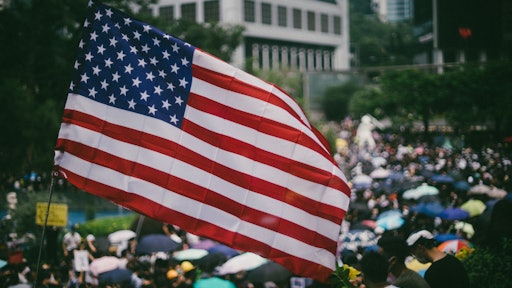 Unsplash
The United States is delaying another scheduled tariff hike on $250 billion worth of Chinese imports.
The tariffs - first scheduled to go into effect on Oct. 1 - will now go into effect on Oct. 15.
The decision is seen as a "gesture of good will" by the Trump Administration after China moved to exempt some U.S. anti-cancer drugs and other goods from its retaliatory tariffs ahead of trade negotiations, Reuters reports.
Trump previously delayed tariffs on some goods until Dec. 15 so that retailers can get ahead before the holiday season.
Various consumer electronics, shoes and other items are spared from hefty tariffs until mid-December. The White House also dropped 25 types of products from the tariff list altogether "based on health, safety, national security and other factors," such as car seats, shipping containers, cranes, certain fish and religious literature.
Concerns Still There
While the stock index rose Thursday after Trump's announcement, there are still concerns surrounding the tit-for-tat trade war between the world's two largest economies.
It is expected that there will be a 0.1% increase in the Consumer Price Index for August, following a 0.3% gain in July, Reuters reports. Goldman Sachs is estimating core consumer prices to rise by 0.05% to 0.10% by mid-2020. Most of the price escalation related to tariffs on Chinese products will be felt in goods such as apparel, footwear and electronics.
The delay comes just after the Association of Equipment Manufacturers (AEM) president Dennis Slater revealed that American businesses paid $6.8 billion in July because of the tariffs, while extra import tariffs have cost U.S. taxpayers $30 billion. Making it a year-over-year increase of 62%.
"These tariffs are increasingly hurting American workers and their families," Slater says in a statement. "U.S. taxpayers have paid over $30 billion in extra import tariffs according to the new data released today and that number will rise as the situation worsens. It shows again that these tariffs don't work and are serving as a tax on American consumers. It's time to end this trade war. Americans across the country, including our industry's 1.3 million men and women, deserve better."
The figure is the highest monthly total U.S. businesses and consumers have had to pay in history.
Is Mexico the Winner of the Trade War?
While the delay of tariffs may temporarily cool trade tensions between China and the U.S., there still doesn't seem to be an end in sight to the ongoing trade war.
Amid the chaos, Mexico may be the real winner of the trade war as the country has become a manufacturing hub.
The country has been able to make "free-trade agreements that offer guaranteed access to more than 50 foreign countries," CNBC reports.
Right now, Mexico has a number of key advantages compared to other countries, according to CNBC:
Proximity to the U.S. market and tariff-free access to the country
Minor cultural gap between countries
Substantial degree of integration
Infrastructure connections domestically and cross-border that continue to improve
Mexico has been a destination for companies that are in search for cheap labor. Between April 2018 and August 2019, six new factories have opened in the country, ranging in sectors from electronics to automobiles and components. The trade war as it has increased Mexico's exports to the U.S. by $28 billion last year.
"More companies are getting smart and they are moving production to Mexico," Joel Sutherland, managing director of the Supply Chain Management Institute at the University of San Diego School of Business and a director of the Reshoring Institute, a nonprofit that supports expansion of U.S. manufacturing, tells The Wall Street Journal.