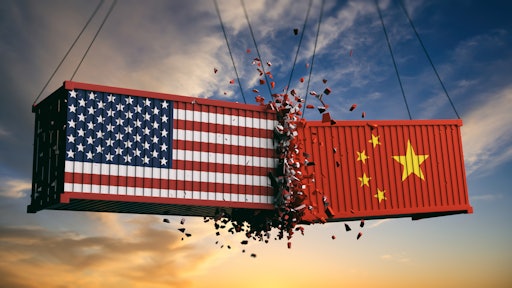 Getty Images
The U.S. and China have resumed trade talks in Washington on Tuesday. The countries hope to settle a fight over Beijing's technology ambitions ahead of a deadline for a U.S. tariff hike.
The two countries are reportedly making progress in their talks, with both governments expressing optimism. However, no details of their talks have been shared. The San Francisco Chronicle reports that Beijing's goal is to persuade Trump that they are making enough progress to push back threatened U.S. penalties.
If the countries don't reach an agreement, a 10 percent tariff increase imposed on $200 billion of Chinese goods is due to rise to 25 percent on March 2. However, it has been reported that the two sides have "made headway on very, very important and difficult issues."
The San Francisco Chronicle reports that penalties were first imposed on Beijing after complaints that the country steals or pressures foreign companies to hand over technology. However, Beijing retaliated with higher duties on U.S. goods and told its importers to find other suppliers, leading to a 40 percent drop in Chinese imports of American goods in January.
China has reportedly offered to purchase more natural gas, soybeans and other exports to narrow its multibillion-dollar trade surplus. However, the country is resisting pressure to scale back industry plans.
Trump said he is willing to push back the deadline if talks go well. However, it is unclear if negotiations are making enough progress.