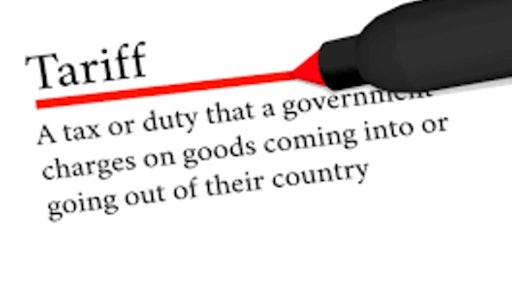 The long awaited day has come. Tariffs on billions of dollars in Chinese goods went into effect at midnight today, but China was already awake and ready to retaliate.
The Trump administration placed a 25 percent tariff on $34 billion worth of Chinese imports to the US. China's Ministry of Commerce said in a statement that the US "violated [World Trade Organization] rules and launched the largest trade war in economic history to date," NPR reports.
With tit-for-tat tariffs already in process, Chinese authorities slammed the US with equivalent tariffs on $34 billion worth of imported US goods ranging from vehicles to agricultural products.
Trump has explained that "Trade between our nations has been very unfair, for a very long time" and that the US-China economic relationship is "no longer sustainable." According to NPR, the tariffs that went into effect on July 6 will not be the last, vowing to implement tariffs on an additional $16 billion worth of imported Chinese goods within the month.
China isn't afraid of the Trump administration, though. The country has promised to retaliate each step of the way to "safeguard core national interests and the interests of its people."
Beijing-based attorney James Zimmerman tells NPR that countries should expect disruption in supply chains and to also expect job losses and a decline in investor and consumer confidence. However, consumers will not see the direct impacts from tariffs for some time. NPR reports that 60 percent of the tariffs involve parts and supplies, not final goods. Companies that are making the products will feel effects at first with consumers eventually feeling the hit on their wallets.
Washington isn't just fighting with China, though. The Trump administration engaged in a similar dance with the European Union, Mexico and Canada last month. Each country has released its plans on placing tariffs against US goods in retaliation for having to pay heavy duties on steel and aluminum.
Companies are already re-arranging business plans due to the tariffs, NPR reports. Harley-Davidson announced that it plans on moving its production of motorcycles overseas because the tariffs would have an "immediate and lasting detrimental impact to its business in the region."
Yet, the Trump administration has yet to see the negative impacts for what they really are and only thinks of them as "hiccups."