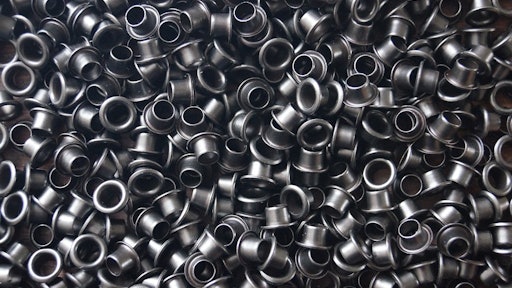 The New York Times reports that Nucor and United States Steel have successfully objected to hundreds of requests to exempt themselves from the metal tariffs that the Trump administration imposed, arguing that imported products are readily available from American steel manufacturers.
The companies have reportedly objected to 1,600 exemption requests filed with the Commerce Department over the past several months, the Times reports. So far, their efforts haven't failed and companies that rely on imports are in denial.
Since announcing the metal tariffs, the Trump administration has received a series of complaints from different industries saying how the tariffs will only hurt their business. To help minimize the impact, the administration established a process for companies to request "exclusions" for any products that can't buy in the US. Since the Commerce Department is overseeing the process it has allowed American companies to argue against any exclusion request.
The New York Times reports that companies have filed more than 20,000 requests for exemptions since may, and as of the end of July, the Commerce Department had denied 639 requests. Nucor and AK Steel Holding Corporation filed an option to half of those denials as well.
So far there has not been a steel exclusion request granted that drew an objection. The Department said that they have granted 20 aluminum exclusions over an objection because the objecting company didn't cite the product in question.
Nucor has object to at least one-quarter of the denials, but at least one other company also objected to a request that drew an objection. Nucor's chairman, John Ferriola, believes that the tariffs are working, but rejected companies don't agree. Those that have been denied exclusions have entered negotiations with the company over supplying steel products that are subject to tariffs or dropping its objections to their requests, the New York Times reports.
While the tariffs are starting to reap dividends within the steel industry, Trump sees it as a good thing, the Times reports.
....Tariffs have had a tremendous positive impact on our Steel Industry. Plants are opening all over the U.S., Steelworkers are working again, and big dollars are flowing into our Treasury. Other countries use Tariffs against, but when we use them, foolish people scream!

— Donald J. Trump (@realDonaldTrump) August 4, 2018
The country's largest steel makers are the most aggressive objectors in the exclusion process. According to the Times, Nucor and United States Steel have each filed more than 1,000 objects. AK Steel has also filed nearly 700 objections.
When objecting, the steel makers allege the company made an error in its filings or criticize them for choosing not to produce steel in the US and buy it overseas instead.
The department has granted over 1,300 steel exclusions, though, nearly 1,000 of them have gone to Greenfield Industries, a cutting tools manufacturer.
To read the full original article, please click here.