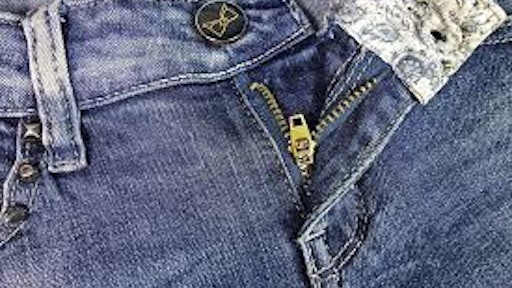 Since the Trump administration placed tariffs on steel and aluminum, the country has been slapped with a series of retaliatory tariffs from its strongest trading allies ranging in products from motorcycles, to soy bean to bourbon. One item that caught many American manufacturers by surprise was the addition of blue jeans.
Victor Lytvinenko, co-founder of Raleigh Denim Workshop, has already lost two accounts after the European Union placed an additional 25 percent tariff on American-made jeans in June, Sourcing Journal reports.
The additional tariffs is just the latest hit to the jean-industry, which has already been steadily declining. Sourcing Journal reports that within the last year, two of the major denim mills closed, and increases in California's minimum wage also helped drive several apparel factories in Los Angeles to close down or move to Mexico.
Free-trade agreements have also been pushing blue jean-making overseas, with many remaining manufacturers balking over the idea of getting hit by a return to protectionism. The remaining jean manufacturers in the country are small businesses that survive by pitching craftmanship and pricing their product at $200 or more.
Sourcing Journal reports that the EU had a 12 percent levies on jeans prior to the additional tariffs. Importers will now have to pay 37 percent tariffs on jeans, making many overseas buyers abandon their orders.
The production of jeans requires more labor than other clothing due to all the sewing and finishing touches. While moving production to lower-cost markets has reduced prices for consumers, it also gives companies more advantages to adjust their supply chains. If suppliers don't take on cost increases, production can be moved.
However, there is a shift starting to happen in the jean industry. A new denim mill is being built in Louisiana and a mill in Texas is experiencing demand for made-in-America fabrics from high-end brands like Calvin Klein, Sourcing Journal reports.