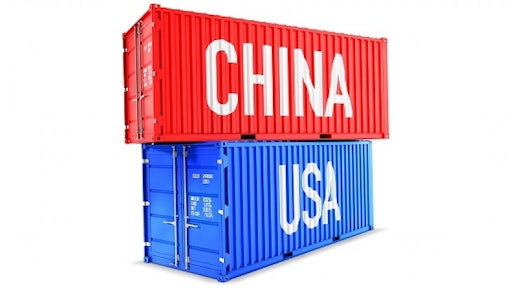 The Chinese tariffs are well underway, only sparing some goods like smartphones and washing machines. However, charges on parts and components could potentially disrupt costs in the US supply chain.
The Trump administration is placing tariffs on $50 billion worth of Chinese imports and additional duties of 25 percent on parts for planes, printed circuit boards, light emitting diodes and optical fibers, according to Bloomberg. The tariffs were first placed on the country due to Trump believing that China has been taking advantage of the US' technological advancements.
Bloomberg reports that the first wave of tariffs will hit $34 billion in goods and will take effect July 6. China is preparing retaliation, saying that it will impose tariffs on the US with the "same scale and intensity. So far, china's Finance Ministry issued a list of 545 product categories that will be subjected to an additional 25 percent tariff starting July 6. However, Trump promised more tariffs on the country if they follow through with their threats. Following the G-7 summit, Trump threatened to impose auto tariffs on Canada because of comments prime minister Justin Trudeau made in the press.
According to Bloomberg, the US imported $506 billion of goods from China in 2017 and exported $130 billion, leaving a deficit of $376 billion.
To read the full original article, please click here.
China tariffs spared some finished goods like smartphones and washing machines, while charges on parts and components could drive up costs in the U.S. supply chain." data-reactid="22">

China tariffs spared some finished goods like smartphones and washing machines, while charges on parts and components could drive up costs in the U.S. supply chain." data-reactid="22">

China tariffs spared some finished goods like smartphones and washing machines, while charges on parts and components could drive up costs in the U.S. supply chain." data-reactid="22">

manufacturers will pass higher costs on to customers or seek cheaper suppliers outside China, should the tariffs take effect in three weeks' time. U.S. President Donald Trump has said the goal is to punish Chinese companies for intellectual property theft, a sensitive issue as the world's No. 2 economy makes the transition from the world's low-cost assembler of devices like Apple Inc.'s iPhone to an innovator that makes its own chips and components." data-reactid="24">

issued a list of 545 product categories, also covering about $34 billion in exports from the U.S., to be subject to an additional 25 percent tariff starting July 6. They included a variety of agricultural products, including soybeans, corn and wheat along with beef, pork and poultry, plus automobiles -- targets that may raise prices for Chinese consumers, but may have a tangential effect on manufacturers." data-reactid="29">