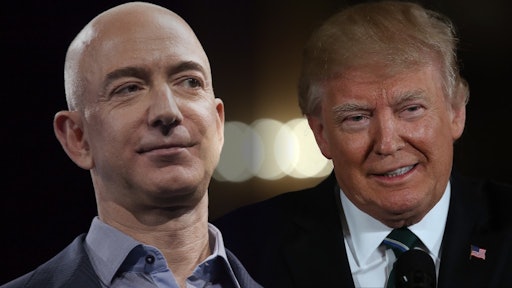 Twenty years ago, Amazon Inc. was just an online bookseller with the hopes of remaining in business. Now, the little bookseller has grown to a cloud-computing business, a Hollywood studio, a device business and a grocery store worth more than $178 billion.
What seems like a Cinderella story to most, has others raising questions, particularly President Donald Trump.
Trump took to social media once again to blast Amazon over business practices and economic impact. He told his immense following that the company should pay more in taxes and it "putting thousands of retailers out of business." The new tweets follow Wednesday's personal attack against the company when he said that he was looking to regulating Amazon through antitrust law, causing the company's stock to slump 4 percent.
While we are on the subject, it is reported that the U.S. Post Office will lose $1.50 on average for each package it delivers for Amazon. That amounts to Billions of Dollars. The Failing N.Y. Times reports that "the size of the company's lobbying staff has ballooned," and that...

— Donald J. Trump (@realDonaldTrump) March 31, 2018
...does not include the Fake Washington Post, which is used as a "lobbyist" and should so REGISTER. If the P.O. "increased its parcel rates, Amazon's shipping costs would rise by $2.6 Billion." This Post Office scam must stop. Amazon must pay real costs (and taxes) now!

— Donald J. Trump (@realDonaldTrump) March 31, 2018
According to eMarketer, Amazon has about 43 percent of the U.S. e-commerce market, less than 4 percent of the total U.S.retail. To go after Amazon with antitrust law, the regulations would kick in when a company is dominant in one market or hurting consumers - which technically doesn't apply to Amazon. Critics have said that the antitrust law is failing when it comes to Amazon because it is focusing on pricing and not on concerns that the business can be anticompetitive.
If Trump pursued any regulations he would have to push a law through a Republican Congress that is unlikely to be receptive to more regulation or involve the Justice Department.
White house press secretary Sarah Huckabee told news outlets that at the time they were not pursuing any actions against Amazon. The Justice Department does not have any antitrust investigations of Amazon.
People familiar with the matter has said that Amazon collects sales taxes in 45 states and the District of Columbia and has voluntarily started collecting taxes in some municipalities.
To read the full original article, please click here.