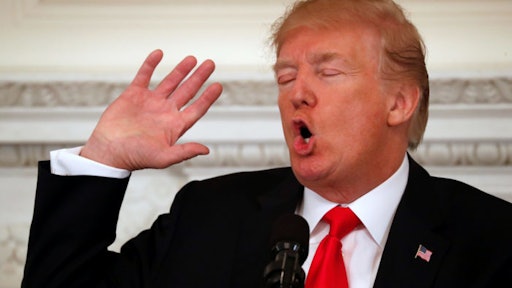 The Trump administration will impose a 25 percent tariff on steel imports and a 10 percent tariff on aluminum imports as early as next week, in order to boost domestic manufacturers.
It's not yet clear whether some key US trading partners will be exempt — which means even the European Union and Canada, the largest supplier of steel to the US, could get hit with the new duties.
The EU and Canada both expressed their opposition to the new tariffs shortly after they were announced, evening willing to retaliate if necessary.
European Commission President Jean-Claude Juncker said the EU will "react firmly and commensurately," and will develop a plan to retaliate in the next few days.
The British government said that in a statement that countries must work together to solve problems of overcapacity and that they were concerned about new trade barriers.
On the other hand, Canada said that any trade restrictions would be unacceptable.
"Should restrictions be imposed on Canadian steel and aluminum products, Canada will take responsive measures to defend its trade interests and workers," Canadian Foreign Minister Chrystia Freeland said in a statement.
US trading partners are worried about how the sizable taxes will affect their demand for exports.
"This is the opening salvo in a trade war. The countries we deal with are not going to sit there and take this," said Phil Levy, senior fellow at the Chicago Council on Global Affairs, and a former White House economist under former President George W. Bush.
Trump will implement the tariffs under Section 232 of the Trade Expansion Act, a little-known trade law from 1962. To do that, he must claim that steel and aluminum imports hurt the country's national security.
"It is entirely inappropriate to view any trade with Canada as a national security threat to the United States," Freeland said in Canada's statement.
Critics believe that the justification will be seen as a stretch and has the possibility of making a mockery of international trades.
Trade experts argue that the policy behind Trump's decision will make it easier for other countries to enact tariffs in the name of national security.
However, it is still unsure how trading partners might respond. Any retaliation from countries could potentially harm American companies, farmers and workers that have nothing to do with steel or aluminum.
To read the full original article, please click here.