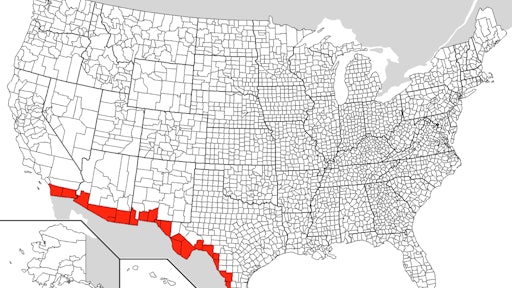 Restricted from operating in the United States, most Mexican drivers must hand off their cargo. The Trump administration wants even tighter controls.
Under the North American Free Trade Agreement, signed in 1993, the United States agreed to eventually let drivers from Mexico deposit their cargoes anywhere. Then the union representing truckers revolted, staging protests at the border and pressuring the White House to abandon the idea.
So ensued a decades-long cage match, waged by American truckers, clinging to a stronghold of blue-collar work, and their Mexican counterparts, desperate to claim territory they had been promised. In 2015, the Obama administration finally allowed Mexican drivers to seek permission to travel beyond pockets of land along the border.
Only a handful now do so. But the fight has entered a new round, with an American president who has shown a special fondness for truckers and their big rigs. The Trump administration has thrown its America First agenda behind the cause in the NAFTA negotiations, demanding that Mexico agree to a provision that could, in the future, block its drivers from making deliveries into the middle of the United States.
Mexico has rejected that suggestion outright, challenging the fairness of shielding a slice of laborers from low-paid foreign competitors, in a trade deal meant to allow most everything to flow freely across borders.
The dispute offers a window into the stakes involved in rewriting, or blowing up, an agreement that has become highly contentious but also extremely lucrative for all sides. It also hints at the impact that market forces—more than rules agreed to on paper—may have on the ways two nations exchange wares.
To read the full original article, please click here.