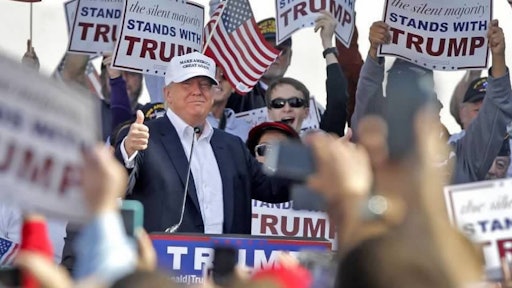 From the North Atlantic Treaty Organization (NATO) to health care, President Donald Trump has evidenced he is comfortable making major policy flip-flops. His most recent reversal came last week, when a U.S. Treasury report declined to name China as a currency manipulator despite Trump's repeated promises to formally accuse Beijing—a signature pledge during his campaign trail.
So, what could Trump backtrack on next? One analyst said he hopes it will be the Trans-Pacific Partnership (TPP), the world's largest trade deal that Trump withdrew from in January on the claim that it would hurt U.S. manufacturing.
"Whoever thought that Trump would let China, a rival, off the hook on currency? If he can do that with a country that's clearly not a friend, maybe he could reconsider reversing himself on TPP for a friend like Japan," Sean King, senior vice president of Park Strategies, told CNBC.
To read the full original article, please click here.