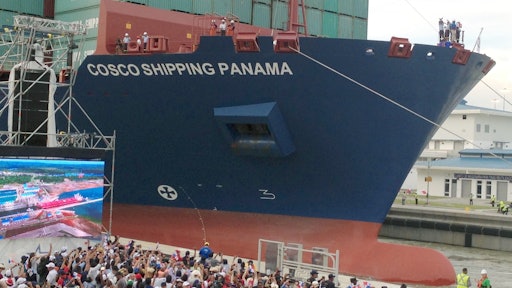 The top trade executive of Port Manatee—the closest U.S. deepwater seaport to the expanded Panama Canal—returned from ceremonies celebrating the expansion with optimism that the historic development will reap big benefits for the port of southwestern Florida.
"Port Manatee is perfectly positioned to gain increased cargo volumes as a result of the Panama Canal expansion," Matty Appice, Port Manatee's chief commercial officer, said, following his return from Panama. "In particular, we anticipate benefiting from calls of feeder vessels that bring containers from Asia via transshipment hubs on the Atlantic/Gulf side of the expanded canal. This should translate to additional jobs and other economic benefits for Manatee County and beyond."
Appice was among dignitaries from throughout the world who took part in June 25 and 26 events commemorating completion of the $5.25 billion endeavor to bring larger locks to the Panama Canal, doubling its cargo throughput capacity.
While in Panama, Appice met with numerous industry leaders, including executives of global ocean carriers, feeder service operators and shipping agencies.
"These senior officials shared in enthusiasm for tremendous positive impacts this momentous expansion will have, including for significantly increased transshipped container volumes through ports such as Port Manatee," said Appice, who noted that Port Manatee signed multiple memorandums of understanding with the Panama Canal Authority.
Prospects for burgeoning commerce generated by the Panama Canal expansion, as well as potential for ferry service with a post-embargo Cuba, are among developments cited in a comprehensive master plan update accepted June 16 by the Manatee County Port Authority. The study report projects cargo volume through Port Manatee will more than double over the next 10 years.
Located Where Tampa Bay Meets the Gulf of Mexico, Port Manatee offers ten 40-foot-draft berths serving container, bulk, breakbulk, heavylift, project and general cargo customers. The port already generates more than $2.3 billion in annual economic impact for the local community, while supporting more than 24,000 jobs, without levying ad-valorem taxes.
Companies in this article