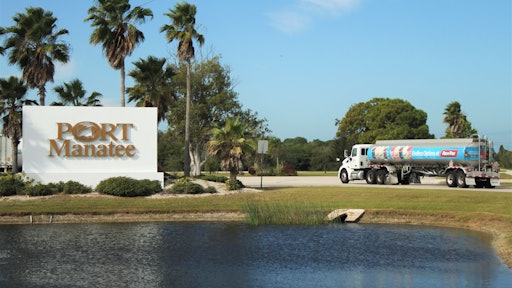 Palmetto, FL—Jan. 12, 2016—Port Manatee is playing a key role in literally fueling Southwest Florida's economy, serving as the gateway for nearly 100 million gallons of gasoline and related fuels on an annual basis.
Under a newly inked agreement, Port Manatee is now the fuel hub for a nine-county region encompassing more than 30 stores of Atlanta-based RaceTrac Petroleum Inc.
"Each day, RaceTrac transports enough gasoline from the Port Manatee terminal to fuel more than 20,000 Southwest Florida vehicles," said Max McBrayer, chief supply officer for RaceTrac. "As RaceTrac continues to expand its presence in Southwest Florida, our operations at Port Manatee allow us to increase efficiencies in fuel transportation, which enables us to continue providing our guests competitive fuel prices every day."
Port Manatee's emergence as Southwest Florida's fuel powerhouse is greeted enthusiastically throughout the area that sprawls southward from Hillsborough and Pinellas counties to Collier County and west to Highland and Okeechobee counties—including by officials of Charlotte County, in the heart of the region.
"The RaceTrac fuel supply agreement stabilizes their distribution network and helps keep fuel costs down while enhancing competition in the market," Charlotte County Commission Chairman Bill Truex said following a recent visit to Port Manatee. "Everything from transportation infrastructure to land prices and availability could affect how Port Manatee's growth impacts economic development in Charlotte County and our neighbors."
During the three-month period from October through December, 420,319 barrels of gasoline were received at Port Manatee berths—compared with zero during the last three months of 2014—while the port also received about 75,000 barrels of inbound gasoline and ethanol via trucks during the final three months of 2015. The ethanol is blended with gasoline at tanks at the port to produce consumer fuel, which heads out from the port via more than 1,000 RaceTrac tanker trucks per month.
"The fuel business represents a new and exciting stream of revenue for Port Manatee, with tremendous upside potential, consistent with our diversification strategy," said Carlos Buqueras, Port Manatee's executive director. "We're encouraged by the confidence in our port shown by RaceTrac and look forward to serving this industry sector for generations to come."
Fuel also heads from Port Manatee to Love's Travel Stops & Country Stores locations in Southwest Florida, and tanks at the port hold No. 6 fuel oil as a backup supply for Florida Power & Light Co.'s Manatee Power Plant in nearby Parrish.
Located "Where Tampa Bay Meets the Gulf of Mexico," Port Manatee is the closest U.S. deep-water seaport to the expanding Panama Canal, with 10 40-foot-draft berths serving container, bulk, breakbulk, heavylift, project and general cargo customers. The port generates more than $2.3 billion in annual economic impact for the local community, while supporting more than 24,000 jobs, without levying ad-valorem taxes.
Companies in this article