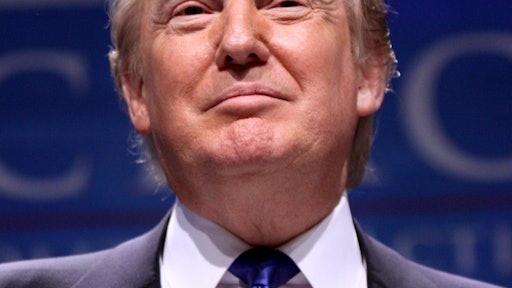 Remember when we found out billionaire investor Peter Thiel is in support of presumptive Republican nominee Donald Trump? At TechCrunch Shanghai 2016, Flexport CEO Ryan Petersen, who has received significant funding from Thiel, candidly spoke about his discomfort around Thiel's backing of Trump.
"I don't know what's going on there," Petersen said on stage in regard to Thiel supporting Trump. "A big part of me is hoping at the last minute he's going to change his vote and publicly say it, and maybe disrupt [Trump's] campaign."
Flexport, a freight forwarding service and software company that offers an operating system for global trade, raised a $20 million Series A round led by Thiel of Founders Fund last year. Flexport runs analytics for international shipping routes, rates, speeds and customs compliance data. On top of that, Flexport offers physical freight shipping services for its business customers.
On stage, Petersen went as far as to say that if he had known Thiel was going to back Trump, he might not have accepted his funding. Here's what Petersen said in direct response to a question about whether he would have taken funding from Thiel if he had known he was going to support Trump:
"Probably not, actually," Petersen said. "Well, it depends on how desperate we were. I don't think that supporting Donald Trump is an acceptable position, honestly. For our business, it would be disastrous."
To read the full story, please click here.