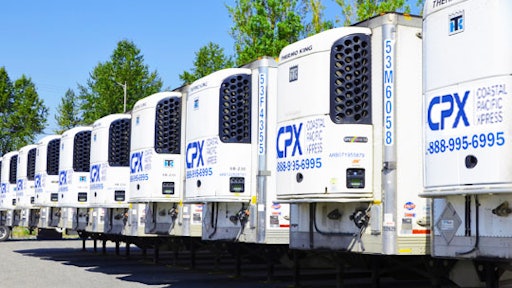 Toronto, Ontario—March 18, 2016—VersaCold Logistics Services, Canada's largest supply chain solutions company focused exclusively on the handling of temperature-sensitive products, announced that it entered into an agreement to acquire Coastal Pacific Xpress (CPX), BC's largest refrigerated carrier specializing in the shipping of perishable and ambient products throughout Canada and the USA.
The acquisition comes just one month after the announcement of VersaCold's acquisition of Gary Heer Transport and the launch of its newest subsidiary, VersaCold North America Transportation Solutions Limited (VNATS). The newest addition to VNATS, CPX will continue to operate as its own entity while enhancing VersaCold's growth in the cross-border transportation market segment, including truckload and less-than-truckload capabilities. The transaction, which is subject to customary closing conditions, including the receipt of applicable regulatory approvals, is anticipated to close in the first half of 2016.
"We have always held CPX in high regard for its reliable service and deep commitment to its customers," said Douglas Harrison, president and CEO of VersaCold. "This exciting acquisition is a major step towards reaching our goal of being Canada's premiere, fully integrated, total supply chain solutions provider. Through partnerships with exceptional companies like CPX, we live our vision of being our customer's most trusted and reliable long-term partner by providing new and innovative solutions and services that provide stability and peace of mind, allowing them to focus on what matters most—the satisfaction, health and wellness of their valued consumers."
"We are proud and excited to join VersaCold and to be a key part of the company's expansion into cross-border transportation services," said Scott McIntosh, president of CPX. "VersaCold and CPX service many of Canada's leading companies, and it was clear to us that, when partnered, we would only be stronger and more empowered to provide solutions and services that enable our exceptional clients to achieve great business results."
CIBC Capital Markets acted as financial advisor, McCarthy Tétrault LLP acted as legal counsel, and EY provided accounting and tax due diligence advice to VersaCold in connection with the transaction.
Companies in this article